Hosted by That Artsy Reader Girl
Seriously, how fun was this prompt? I had such a good time coming up with my list this week, and I'm looking forward to seeing how everyone else answered it, too.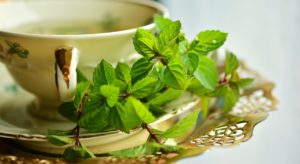 1. Mint Tea
Caffeine tends to make me anxious, so I try to stick to caffeine-free beverages and foods as much as possible. Mint tea both smells and tastes nice.
2. Vegan Yogurt
I'm not vegan, but I eat a lot of products marketed to that demographic group due to my milk allergy. Non-dairy yogurts have gotten pretty good these past few years, so thank you to the vegan community for creating a demand for them. You're awesome.
3. Salted Pistachios or Other Mixed Nuts
Nuts are such a satisfying snack.
4. Fresh Fruit
It's hard to remember the last time I tried a new type of fruit and disliked it. Just about any sort of fruit is delicious to me.
5.Crunchy Vegetables
I love crunchy vegetables like carrots, celery, radishes, or kohlrabi. It's so satisfying to munch away at them, especially if I'm reading something a little frightening or atmospheric. Somehow having a plate of food to snack on makes me feel a bit less nervous in those circumstances.
6. Hard-boiled Eggs
I eat hard-boiled eggs with a little salt and pepper. They're amazing. As soon as I pick up another bottle of hot sauce at the grocery store, I might try them that way next.
7. Cinnamon and Sugar Toast
This has been one of my favourite snacks since childhood. It's even better if the toast is whole grain. My mom always bought healthy bread like that when I was growing up, so I developed a strong preference for it.
8. Grape Jolly Ranchers.
Will I eat other flavours of jolly ranchers? Absolutely, but the grape ones will always be my favourite. They are so delicious.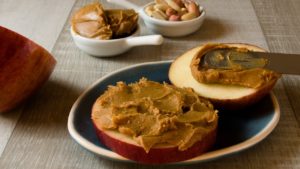 9. Almond Butter.
Honestly, any nut butter is appealing to me. it can be spread on toast, apple slices, celery, and so much more.
10. Sardines
I totally expect to be the only Top Ten Tuesday blogger who mentions this snack this week, but I love sardines. They have such a unique taste, and I find them really filling. They're also a good source of certain nutrients like calcium and Vitamin D that I need to make sure I consciously include in my diet due to my milk allergy .