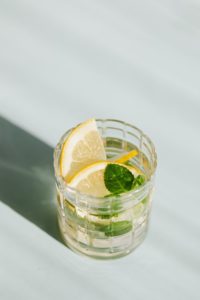 Vintage SciFi Month was created by Little Red Reviewer and is moderated by Red Star Reviews.
Any science fiction film, short story, play, or book released before 1979 is eligible for this celebration of classic science fiction. Click on the links above to participate, read other entries, or for more information in general. 
One of my favourite things about exploring a new science fiction universe is finding out what they eat or drink that is not available in our world (or that humans don't generally consume for whatever reason).
This week I challenged myself to come up with as many unusual foods and drinks that were mentioned in pre-1979 science fiction stories as I could remember.
Pan-Galactic Gargle Blaster in The Hitchiker's Guide to the Galaxy. Yes, this was from the 2005 film, but the book was published in 1978 and the idea remains the same.
Spice (gigantic sand worm secretions) from Dune.
The Low-Carb, High-Protein, and High Fat diet from Woody Allen's 1973 film Sleeper.
I couldn't find a copy of it online, but I was also always mesmerized by the brightly coloured food on Star Trek: The Original series. It looked so futuristic and delicious!
How many of these items would you to eat or drink? What would you add to this list?