Hosted by That Artsy Reader Girl
I'm not a romantic person in real life, and I don't generally find myself that interested in romance novels or stories spend a lot of time talking about characters falling in love. (Y'all, how on Earth did I ever manage to get married? Ha!)
So this week's list required some thought, and I was a little short of the full 10 books we were supposed to come up with once I finished it.  Honestly, I like it when blog hops make you think, though. It's nice when you can automically come up with a dozen or more books to fit a Top Ten Tuesday theme, but there's also something to be said for digging deeply to get one of these posts put together.
You're going to see several friends-turned-lovers on today's list. On the rare occasions that I get excited about a fictional romance, a friendship evolving into something more than that is often the biggest reason why I'm thrilled. Most of the people I've developed crushes on or fallen in love with have started out as friends first, so it's always nice to see characters have that same wonderful experience.
1. Jo and Laurie from Louisa May Alcott's "Little Women."
I really like it when characters who have similar personalities end up in flirtatious or romantic situations. Jo and Laurie not only acted a lot alike, they had some of the same flaws. That can be a good thing for certain couples! If you both struggle with the same bad habit, it can be easier to show empathy when your partner messes up in that area.
2. Alice and her partner in Claire Kann's "Let's Talk About Love."
To the best of my knowledge, this was the first book about an asexual character I ever read. (I'm purposefully not mentioning her partner's name for spoiler purposes). While there were parts of the plot I didn't find so interesting, I was fascinated by the idea of someone having a romantic relationship without ever wanting to have sex with them. It's not something that's talked about very often in mainstream fiction, and I don't know anyone in real life who is asexual to the best of my knowledge, so it's nice to see an example of how these types of relationships work.
3. Ron and Hermione from the Harry Potter series. 
Most people seemed to think Hermione would end up with Harry. I personally assumed she'd end up with Ron's wickedly intelligent older brother, Percy, because they were both so bookish in the very best sense of that term.
I do see the logic in Ron and Hermione ending up together, though, and I like the thought of them raising a couple of bright and probably terribly mischievous kids.
4. Annie and Liza from Nancy Garden's "Annie on My Mind."
There's something about young love that's always interesting to read. I developed crushes on others so rarely when I was in school that my dating history was almost non-existent until I was in my 20s. It was nice to read about girls who had a totally different adolescence than mine.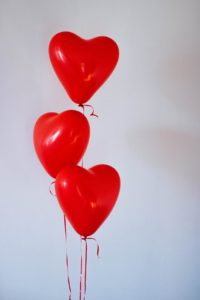 5. Anne and Gilbert from L.M. Montgomery's Anne of Green Gables series. 
I did not like the thought of Anne and Gilbert dating when they were teenagers because of how fiercely competitive they were, but my opinion changed once they'd both had a chance to grow up and experience life a little more. They were both smart, compassionate, and very kind. I don't know about all of you, but I always cheer at the thought of these sorts of folks ending up together.
6.Valancy and her partner in L.M. Montgomery's "The Blue Castle."
Once again, I can't say who the main character ended up with for spoiler reasons, but I thought Valancy and her lover made a wonderful couple. Valancy's life had been so drab, strictly controlled, and sometimes even peppered with emotional abuse when we first met her that this twist in her fate was a true breath of fresh air.
7. Josh and Emma from Jay Asher and Carolyn Mackler's "The Future of Us."
Imagine getting glimpses of your possible futures through the Internet! I loved this premise just as much as I did trying to figure out if these two friends were actually going to one day end up together. The fact that it was set in the 90's only made it better. There haven't been too many contemporary stories set in that decade yet, so I'm happy whenever I find one.
8. Jane and Mr. Rochester from Charlotte Bronte's "Jane Eyre." 
The romantic subplot wasn't one I knew about in advance because I read this book on my own for the sheer joy of it instead of  for a class assignment. Due to this, Jane's relationship with Mr. Rochester came as a huge surprise to me. Her neglectful childhood was oddly a nice match for all of the troubles Mr. Rochester had been through. I hope they'd find some happiness in each other after all of the hard times they'd both know. There's something so emotionally satisfying about that, don't you think?
9. Ennis and Jack from Annie Proulx's "Brokeback Mountain."
I saw the film version of this tale long before reading the short story it was based on. Ennis and Jack's gruff and pragmatic personalities worked so well together. They were perfect for each other. If only they'd live in a time and place where it was easier for two people of the same gender to share a life together.
What would you recommend I add to my list to bring it to up to 10 books? I tried so hard to think of one final couple, but I just couldn't do it.