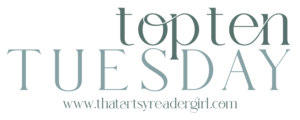 Hosted by That Artsy Reader Girl
I'm borrowing this theme from Jana's Halloween post last year, so she gets all of the credit there. It was such a great idea for both Halloween and Top Ten Tuesday.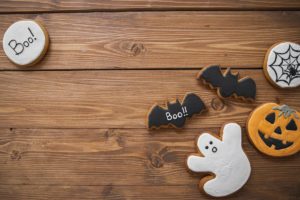 1. Visited a haunted house attraction.
I have been inside a house that others said was haunted, but I can't say I've ever seen or heard anything there that defies scientific explanation.
Haunted house attractions don't appeal to me because I dislike jump scares.
2. Attended an adult Halloween party.
3. Dressed up as something scary or gross.
4. Played the trick part of trick-or-treating.
I once toilet papered someone's car, but they knew about it and I cleaned everything up immediately. I wouldn't do anything to damage someone else's property or leave a mess, so no egging or toilet papering houses for me.
5. Seen a ghost. 
6. Participated in a seance or used an Ouija board. 
7. Visited a fortune teller. 
8. Drank a pumpkin spice latte. 
9. Eaten many Halloween-themed treats. 
10. Decorated for Halloween. 
Here's a quick explanation of why I haven't done a lot of this stuff.
I was a preacher's kid growing up, and my family didn't celebrate Halloween at all until I was in middle school. We attended harvest festivals at various churches or didn't do anything in particular that day instead depending on the year. When my parents later changed the family rules and said trick-or-treating was okay, we weren't allowed to pick scary or gross costumes.
While I'm no longer a member of that church, I still have no interest in contacting spirits or having my fortune read. (I do not judge those who are into those things, though! To each their own).
Many Halloween treats, including pumpkin spice lattes, are filled with dairy products. I'm allergic to milk, so I usually can't eat and drink that stuff unless I visit a vegan bakery or find a recipe that can be modified and make them myself. Maybe someday I'll dig into that part of the Internet and do it, though.
Do you celebrate Halloween? What common Halloween things have you never done?