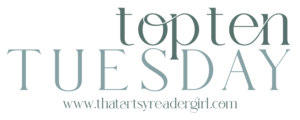 Hosted by That Artsy Reader Girl
Now is one of those times of the year when my bookish side takes a break and my other interests get a chance to flourish. Here are some of the things that I've been doing (or trying to do) instead of reading this spring.
1. Beautiful Weather
I'm saying this affectionally, but Toronto only has a few months of gorgeous weather per year. Most months are too hot, cold, or stormy to spend more time outside than is strictly necessary.
When we finally get long stretches of dry, mild, pleasant weather in the spring and autumn, you'd better believe I'm out there soaking up as much of it as I can.
2. Nature 
Anyone who reads my posts regularly already knows I'm a nature lover. Along with enjoying pleasant weather when it comes, I also like to admire the spring flowers and whatever else is in season.
3. A Reading Slump
They seem to be more common for me in spring and autumn. It might be because I generally spend so much time reading over the winter when it's too cold and snowy (and over the summer when it's too hot and humid) to visit some of my favourite places.
4. TV Shows
My spouse loves watching TV with me, so that reduces my reading time as well.
5. In-Person Socialization
Like everyone else, I've been a real homebody these past few years (and, honestly, I was a homebody way before that, too), so I'm trying to stretch myself and spend more time socializing in person when I find Covid-safe ways to do so.
6. Fire Alarms 
No, this isn't a joke. My apartment building keeps having the fire alarm set off by people who do things like smoke in the stairwell, smoke in the hallway, or accidentally burn some food, open their front door to air out their apartment, and inadvertently set off the building-wide smoke alarm instead of only the one in their apartment.
While I am grateful for smoke alarms and how seriously management takes everyone's safety, I sure wish the fire alarms wouldn't be set off so often when there's no actual danger.