Hosted by That Artsy Reader Girl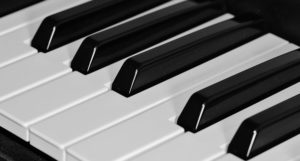 I decided to add what genre of music I think these imaginary bands would play, too!
Genre of Music: Happy Hardcore
Genre of Music: Caribbean. But I think I'd tweak their name to be "The Go-Betweens."
3. Daddy Cool 
Genre of Music: Jazz
Genre of Music: Modernized folk music from around the globe performed by a diverse group of musicians from those cultures. Their band name would be a misnomer for sure.
5. Lullabies for Little Criminals 
Genre of Music: Rock
Genre of Music: Annoying but also strangely catchy tunes for young children. This band reserves the right to borrow from any other genre with no advanced notice.
7. Mystic River 
Genre of Music: Country
Genre of Music: Pop
Genre of Music: Classical
Genre of Music: An R&B girl group. I choose to believe that Blue Ivy Carter would be one of their members, but I'll leave it up to the rest of you to pick the others. 😉