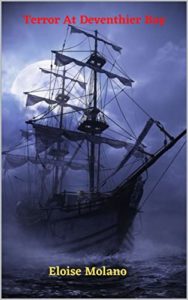 Title: Terror at Deventhier Bay
Author: Eloise Molano
Publisher: Self-Published
Publication Date: July 24, 2021
Genres: Horror, Paranormal, Historical
Length: 26 pages
Source: I received a free copy from the author.
Rating: 3 Stars
Blurb:
In a remote region of the north, in a huge bay was the town of Deventhier, the characteristic of this place was precisely the origin of the formation of a thick summer fog that was somewhat mysterious that was found in these partly cold waters that condition the Deventhier weather.
And it is precisely in the bay of this town where its locals talked about old stories of shipwrecks, inclement winter, terrifying fog, accidents of fishing boats and many stories of the dead and ghosts.
In one of these stories, a local named Manfred recounted the events that happened to an acquaintance named Albert on his trip on the ship named Zarpador, commanded by Captain Horace and with several well-known sailors among others, was Sigmur, Jhon and Hendrik.
On one of their fishing trips they had a fatal accident with a small boat caused by intense fog and heavy rains that did not give the sailors vision.
Due to the weather they could not rescue anyone from the small boat but in the following hours some strange phenomena and appearances began to happen on the boat, which drove its occupants to madness and increased the risk around the constant fog and cold. and the rain that lashed them.
Join me as I follow this story full of suspense, terror and dramatic testimonies from the people who suffered all these events.
Review:
Small towns are the perfect place for shocking news to spread.
The horror genre encompasses many different themes and styles. This isn't something that so much as glances in the direction of anything gory or gross. Instead, it relies on secondhand information and the outer limits of the human imagination to made its audience shudder. That just so happens to be one of my favourite types of horror, and I'm pleased every time I find another author who writes this sort of stuff. Some of my favourite scenes were the ones that tried as many different ways as they could to scare me using these tools and preciousF few others.
This short story had a huge cast of characters that I struggled to keep track of. As much as I liked getting to know the characters, it would have been easier to remember who was who if the cast was smaller given how few pages the author had to work with when introducing everyone and explaining how they were connected to the haunting. Having fewer characters would have also left more space for the scary parts of the storyline, too, which I thought passed by too quickly given how much of the blurb was devoted to them.
With that being said, I did enjoy the conversational tone of this tale. It had been passed around to so many members of the community by the time the main character shared it that it had that wonderfully tattered feeling that sometimes happens when a story is passed through so many different points of view. That is to say, it came out in dribs and drabs instead of being as fresh and sharp as it might have been if those moments were described to the readers from the first person perspective. This was an excellent choice given the subject matter, and it made me curious to see what Ms. Molano might write next.
Terror at Deventhier Bay should be read by anyone who is looking for something spooky on a rainy or foggy night.