Hosted by Long and Short Reviews.
Click here to read everyone else's replies to this week's question and here to see the full list of topics for the year.
Place: Yellowstone National Park in Wyoming
Why I Loved It: This isn't my photo, but I remember being mesmerized by the herds of elk, buffalo, and other large animals when my family visited Yellowstone when I was a kid. It's awe-inspiring to be that close to creatures you'd normally only see in photos or videos. This is a fantastic place to visit for people of all ages and ability levels. 
Place: Vedawoo National Park in Wyoming
Why I Loved It: Here's an old photo of my parents, siblings, and me in Vedawoo when I was a child. It's such a wonderful place to enjoy nature and spend time with people you care about. Someday I hope I'll get to go back there and have another picnic and hike like we did so many times when I was little. Maybe it could even be a big extended family trip! My nephews would like running around in Vedawoo.
Place: Alaska
Why I Loved It: I've mentioned this Alaskan cruise my extended family took here before. The scenery in Alaska is breathtakingly beautiful both on water and on land. I've never seen anything quite like it and would love to explore the parts of it I didn't have time for on my first trip there. There were more sights to see than there were hours in the day!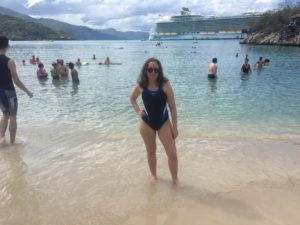 Place: Labadee Beach in Haiti
Why I Loved It: I love swimming and building sandcastles. Soaking up all of that warm sunshine feels great, too.  Labadee Beach was private beach in Haiti my spouse and I have visited on a few different winter cruises. It was warm, relaxing, and peaceful. As you can probably already guess, I'd love to go back here again someday as well. There's something nice about returning to vacation spots you already know you'll enjoy. In the meantime, my fingers are crossed that it might be okay to visit Toronto's beaches this summer. We'll have to see how this year goes.
I have no idea what to add for my fifth answer to this week's prompt, so I'll stop here. Prince Edward Island and Hawaii are still on my bucket list, so maybe I'll be able to see them eventually!