Hosted by Long and Short Reviews.
I was the sort of English student that teachers loved. Not only was it my favourite subject, I enjoyed almost every writer that was ever assigned to us in those courses. Often I'd even go out and read as many other poems, essays, or books by that same author as I could find for the sheer fun of it, but I'll save those stories for August 28 when we all blog about assigned works that we really enjoyed in school.
There were a few exceptions to my love of literature, however.
The Great Gatsby by F. Scott Fitzgerald. 
I struggled so hard to connect with this book, but the characters were simply too vain and materialistic for me to bond with them at all. Those are simply two personality flaws that I have little patience for in fiction or in real life.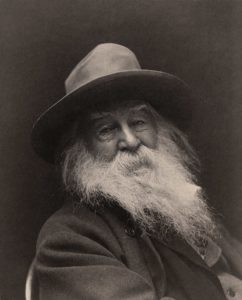 Walt Whitman
While I immediately enjoyed other nineteenth century poets like Emily Dickinson and Edgar Allen Poe, Whitman was too verbose for my tastes. He had wonderful ideas, but I kept wanting to edit his poems down to a third of their original size when I read them.
King Lear
There are several Shakespeare plays I really like watching on the stage and will gush about in a few weeks, but King Lear is not one of them. The idea of playing favourites with one's children deeply irritates me. I've seen the longterm effects of that in other families, and it's destructive for everyone involved.
Due to this, I found it hard to sympathize with King Lear. It seemed to me that he could have easily had a peaceful retirement if he'd only chosen to treat all three of his daughters equally.
Click here to read everyone else's replies to this week's question. The image below is the list of upcoming prompts for this blog hop.