Hosted by Long and Short Reviews.
I've been looking forward to this prompt for ages! I can't wait to get to know all of you a little better.
While spring is my favourite season in Toronto, the wonderful thing about summer here is how many different types of events are scheduled during it. I'm frugal and minimalistic, so everything I'll mention in this post is either free or inexpensive.
Concerts. Pop and R&B have been my favourite types of music since childhood, but I can find something likeable about many other genres, too. Toronto has many free or low-cost concerts every summer that I enjoy checking out. There is nothing like listening to a singer or band perform on a warm day. You might even catch me dancing a little bit if no one is glancing in my direction!
Parks. As you've all heard in previous Wednesday Weekly Blogging Challenge posts, I enjoy the outdoors. Walking, trying to identify plants, playing badminton, snapping photographs, and visiting the zoo are some of the many things I'd enjoy at the park. If my husband agrees, maybe we'll even have a picnic in the park before it gets too hot outside.
Beaches. I need to be mindful of how much sunlight I'm exposed to for medical reasons, but I still love going to the beach on occasion.  There's nothing like building a sandcastle, going swimming, or even simply strolling down a boardwalk and doing some friendly people watching there.
Parades and Festivals. This is the time of year when Toronto has a parade or festival for almost anything you can imagine: race/ethnicity/cultural celebrations from every corner of the globe, jazz (among many other types of music), eco-friendly lifestyles, the LGBT+ community, the vegan/vegetarian community, and more. I don't necessarily attend the same events every summer, but I do like to pick a few different things to check out depending on the weather and how much time I've spent in the sun lately. It's delightful to be surrounded by so many happy people who share some sort of common experience or label.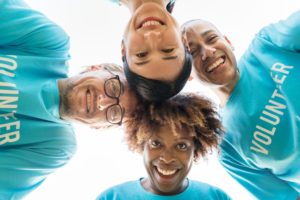 Museums. Call me Hermione Granger, but learning is always my idea of a good time. Whether it's art, science, history, or another topic entirely, there is definitely something to be said for spending a few hours in a nice, air-conditioned museum on a muggy day.
Volunteering. I recently began volunteering at a few new places, and I'm thrilled to help those organizations out. Summer seems like a great time of year to do this in general since so many volunteers tend to go on vacations then. Taking breaks is important and necessary, but it also means that many non-profit groups are looking for more folks to fill in the gaps in their schedules now.
Click here to read everyone else's replies to this week's question. The image below is the list of upcoming prompts for this blog hop.