Hosted by Long and Short Reviews.
Click here to read everyone else's replies to this week's question and here to see the full list of topics for the year.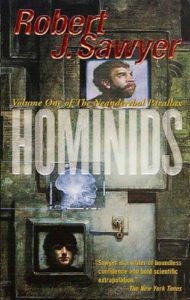 It was tough to narrow this down to only one answer, but I'm going to have to go with Robert J. Sawyer's Neanderthal Parallax trilogy.
This series showed what happened when a link was established between our Earth and an Earth in a parallel universe where Homo sapiens went extinct and Neanderthals survived until present day.
Readers who have followed my site for a while may remember how much I enjoy reading fiction and non-fiction about the different human and human-like species that have lived on Earth.
What made this series even more interesting were the many cultural differences between us and Neanderthals.
If you picked out two humans on our Earth who had the least in common as far as language, culture, and life experience goes, they'd still be miles ahead when compared to introducing a Neanderthal to a Homo sapiens in this series.
To give a few of the least surprising examples, Neanderthals in this series have remained hunter-gatherers, have no farms or other formal agricultural systems, do not have a monetary economy, have no concept of religion or a belief in any supernatural being, and have a rate of serious crime that is all but non-existent.
Honestly, the world building is the most unique one I've ever seen. I can't recommend it highly enough for that reason alone.