Hosted by Long and Short Reviews.
Click here to read everyone else's replies to this week's question and here to see the full list of topics for the year.
Halloween is by far my favourite holiday of the year for the following reasons:
There Is Assorted Candy. I only eat candy occasionally, but when I do I like to have a nibble of this and then a nibble of that. The bags of assorted candy sold for people to give out to trick or treaters are perfect for getting small bites of several different treats instead of having to eat an entire bar or single serving bag of something at once.
It Includes No Family Obligations. The relatives I'd love to see for Thanksgiving or Christmas live nearly two thousand miles away from us. The wonderful thing about Halloween is that there's no tradition of getting together with anyone for a big meal to celebrate it, so I don't have to miss anyone when this holiday rolls around. I can simply enjoy the festivities.
You Can Be Anyone You Wish to Be. It's been far too long since I dressed up for Halloween, but I love the idea of everyone getting to be whoever they want to be on that day. If you can imagine it, you can be it on this one special day!
It Demystifies Death. Many of us are reticent to talk about death the rest of the year for totally understandable reasons. While I'm not a fan of the gory or gross aspects of Halloween, I do like the fact that it brings this topic out in the open and maybe makes it a little less frightening to think about when it comes to practical things like writing a will or planning who will look after your kids/pets/estate after you're gone.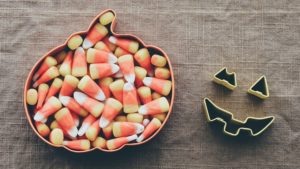 Halloween Films Are Creative and Unsentimental. No offence to anyone who likes sentimental films, they're simply not my cup of tea.
I usually prefer stories that tap into other parts of the human experience whether that's joy for Halloween films written for kids or surprise and apprehension for the more adult-oriented stuff.
Candy Corn. Yes, I saved my most controversial reason for last. I love this stuff and look forward to it becoming available again every autumn. How many of you feel the same way about it?