Hosted by Long and Short Reviews.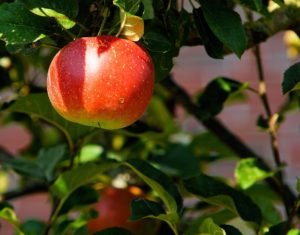 My earliest memory involves an apple tree.
My family lived in a farmhouse on the edge of a small town in Ohio for the first four or five years of my life. An apple tree was growing in our front yard.
As soon as the apples on it grew large enough for me to recognize them, I decided I wanted to taste them.
The problem was, I wasn't strong enough to pick the apple first no matter how much I tugged on it. (In retrospect, I wonder if the apple also wasn't fully ripe yet).
After accepting the fact that the apple wasn't going into the house with me after all, I decided to have a bite right then and there. I don't remember what happened after that, but years later my parents told me they found that apple with a tiny little bite in it and laughed.
And, yes, I still love apples to this day
Click here to read everyone else's replies to this week's question. The image below is the list of upcoming prompts for this blog hop.