Hosted by Long and Short Reviews.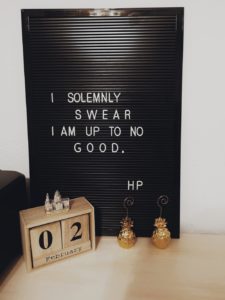 Confession: I love quotes. (Those of you who already follow me on Twitter are no doubt 100% unsurprised by this).
I had to restrain myself for this week's prompt. It would have been so easy to write a 1000+ word post and share dozens of quotes, but I'll try to keep things short and sweet for the WWBC community.
One of my favourite Harry Potter quotes is in the photo I picked to accompany this post. If you can't see it, it says "I solemnly swear I am up to no good." I giggle every time I read it.
Technically, I don't know that the next quote on this list is from a book. I'd like to think that Mark Twain would be amused by me bending the rules slightly to include him, though!
"Good friends, good books, and a sleepy conscience: this is the ideal life."
― Mark Twain
"The books that the world calls immoral are books that show the world its own shame."
― Oscar Wilde, The Picture of Dorian Gray
"The story so far:
In the beginning the Universe was created.
This has made a lot of people very angry and been widely regarded as a bad move."
― Douglas Adams, The Restaurant at the End of the Universe
"Fate is like a strange, unpopular restaurant filled with odd little waiters who bring you things you never asked for and don't always like."
― Lemony Snicket
"Some humans would do anything to see if it was possible to do it. If you put a large switch in some cave somewhere, with a sign on it saying 'End-of-the-World Switch. PLEASE DO NOT TOUCH', the paint wouldn't even have time to dry."
― Terry Pratchett, Thief of Time
"There is nothing in the world so irresistibly contagious as laughter and good humor."
― Charles Dickens, A Christmas Carol
"Do your thing and don't care if they like it."
― Tina Fey, Bossypants
"You fail to recognize that it matters not what someone is born, but what they grow to be!"
― J.K. Rowling, Harry Potter and the Goblet of Fire
Click here to read everyone else's replies to this week's question. The image below is the list of upcoming prompts for this blog hop.