Hosted by Long and Short Reviews.
Click here to read everyone else's replies to this week's question and here to see the full list of topics for the year.
This is one of those topics I could write an entire book about. There are so many amazing stories out there that have either never been made into films or were made into such terrible ones that I'll never stop hoping for a remake. (*cough* Clan of the Cave Bear).
T
herefore, I narrowed this week's topic down a little to a recent book that I'm dying to see turned into a film but has not yet been optioned so far as I know.
The Deep by Rivers Solomon was a science fiction novella written about the descendants of pregnant African slaves who were thrown overboard into the ocean as the slave ships sailed to the Americas. (My review of it is here).
The main character, Yetu, lived in a mermaid-like society that chose one member to carry all of their ancestral memories of those events and how the survivors built a new life for themselves on the ocean floor. Being assigned this role was an honour but also a burden.
While there were definitely heavy scenes to read given the references in it to slavery, murder, and the impacts of intergenerational trauma, I loved what this novella had to say about making peace with the past and finding hope in your current circumstances. It also did a wonderful job showing why it's important to seek out supportive, kind people wherever you may find them who are willing to listen and help during tough times.
This story would be the perfect show to watch in today's social climate for teens and adults.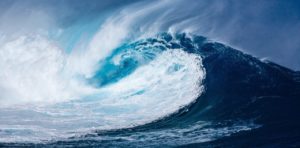 There weren't a ton of characters in this novella in general because of how short it was and how much time was spent on flashbacks of the past.
Some of my favourite characters who showed up later on in the plot are too wrapped up in spoilers for me to include here.
I will share actress ideas for two of the main characters who I think would be great for those roles below.
Yetu was the main character. She was an intelligent young woman who was roughly in her teens when the events of this tale took place. She was quite nervous about taking on such a huge responsibility and honestly didn't want it.
I think Coco Jones would be a fantastic Yetu.
Amaba was Yetu's mother. She was a well-respected woman in her community who cared deeply what others thought of her. Her daughter's success (or failure) would have enormous repercussions on Amaba's social standing for many years to come.
I'd love to see Danai Gurira play Amaba.