Hosted by Long and Short Reviews.
Click here to read everyone else's replies to this week's question and here to see the full list of topics for the year.
I believe everyone should try meals that they did not grow up eating from places in the world their (recent) ancestors did not come from or live in. Of course, this means that the answer will be different for everyone!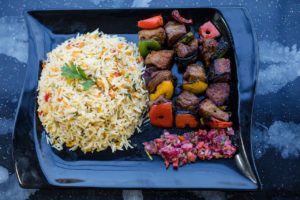 In my case, this means trying meals from different African countries and cultures since none of the small towns I grew up in offered anything like that.
I've only done it once so far at a nice little Ethiopian restaurant here in Toronto and once or twice at other places, but I hope to do it more often once this pandemic ends. There are so many other cuisines to try from that continent. I know I've barely even scratched the surface so far.
Sadly, I can't find my photos of those meals, so here's a stock photo of similar East African food instead.
It is so much fun to taste new dishes and try new combinations of spices! I can't recommend it highly enough.