Hosted by Long and Short Reviews.
Click here to read everyone else's replies to this week's question and here to see the full list of topics for the year.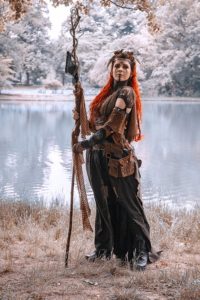 When I was a teenager, I wrote a little bit of fan fiction for a couple of my favourite worlds (Narnia and the prehistoric world set in Jean M. Auel's Earth's Children series that I've talked about here so often, if you're curious).  I never finished any of it and it doesn't exist anymore so far as I know, but I had a wonderful time playing around with characters and settings I knew so well.
I've read far more fan fiction than I've written. The quality of it varied depending on the skill of the person writing it, of course, but that's true for any form of storytelling. I'm interested in experiencing fabulous stories no matter where they come from: fan fiction, self-published books, hybrid-published books, traditionally-published books, tv shows, films, music, or spooky stories told around a campfire.
To me, fan fiction is a hobby that may sharpen your writing, communication, and critical thinking skills if you write and/or read high quality material. I'd compare it to cosplay or role playing a character for Dungeons and Dragons in that you get what you put into it and there are so many different ways to enjoy it.
Some people adore it and do it regularly. Other folks are like me and have dabbled in it. I'm sure there are plenty of people out there who have zero interest in this stuff, and that's perfectly okay, too.
Hobbies make life more enjoyable. Of course I encourage everyone to follow their interests no matter how young or old you are. Life is too short to be serious all of the time or to worry what others think about what makes you happy.  For some folks, chasing happiness includes doing things like dressing up in fun costumes or making up stories about your favourite characters. I say more power to them!