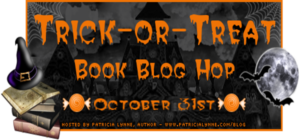 This event is so cool I decided to dedicate a full post to it today.
On October 31, blogger Patricia Lynne is going to be hosting a Trick-or-Treat blog hop for anyone who is looking for free, new e-books to read.
Authors, you have until October 31 to hop on over to her site and share a link to your free book or books.
Bloggers, readers, and reviewers, the full list of free e-books will be available on that site on October 31. Be sure to go check it out then if you need something new to read. The hashtag they're using on Twitter is #trickortreatreads, so keep an eye out for that, too.
I've already added the link for my books. If I find any titles there that fit the theme of my blog, you may see reviews of them here in the future. A big part of the reason why I wrote this post is so that I can link back to it over the coming months to explain how I gained access to so many free books at once if this pans out as well as I hope it does.
Happy reading, everyone!