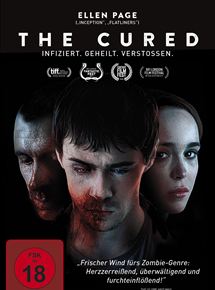 Content warning: Blood, violence, the death of a child, mental illness, and trauma. I will be mentioning these topics in my review.
The Cured is a 2017 Irish horror drama about former zombies being reintegrated into society after being cured of their disease.
While there are some violent scenes in it, this film is much more about how society stitches itself back together after a pandemic has ripped everything apart.
In short, this wasn't about watching characters get hurt. It was about how everyone dealt with the traumatic aftermath of this sort of event several years after order was restored and everyone went back to work and school.
I've never seen a zombie film focus on this part of that story arc before. It was so unique that I had to watch this despite rarely being into zombies or post-apocalyptic fiction these days.
The character list is quite small this time because the vast majority of the scenes centred on this one family and how they coped.
Characters
Senan Browne was a former zombie who was cured. He was deeply traumatized by his experiences and struggled to find any sense of normality even after he was deemed to no longer be a threat to society.
After his release from the treatment centre, he was sent to live with his sister-in-law, Abbie, and young nephew, Cillian, who can be partially seen in Senan's arms in the above photo.
Senan's social worker assigned him to work as a porter at the same treatment centre that cured him. He was such a quiet, withdrawn man that I really wondered how he'd respond to this work environment.
Abbie was Senan's sister-in-law. Cillian is her son. Her husband, Luke, died early on in the zombie outbreak, so she raised her son alone in a violent and unpredictable environment.
She was just as traumatized as her brother-in-law, but she expressed it in completely different ways. Abbie was hyper-aware of everything going on around her and insisted on always knowing where her loved ones were for obvious reasons.
My Review
This is one of those rare zombie films that I'd wholeheartedly recommend to people who hate that genre. The zombies could easily have been substituted for real-world issues like pandemics or war and come to almost the same conclusion. It was the characters' reactions to them that pushed the plot forward in the vast majority of cases.
Actually living through a zombie attack would be traumatizing for anyone, and the plot did an excellent job of showing how the two main characters reacted both in the moment and several years later when they were safe and together again.  Both of them showed clear signs of mental illness as a result of these experiences, including flashbacks, panic attacks, guilt, rage, anxiety, mood swings, serious trouble focusing, and avoidance of things that reminded them of those terrible days. All of these scenes were handled sensitively.
Senan's experiences had been unique ones. Without giving too much information away, life for people in his position was extremely difficult. Not only did he have to deal with prejudice and mistreatment from people who'd survived the initial outbreak without being turned, he also had to come to terms with what he'd done while he was a zombie. The social commentary on how we treat people whose choices have disgusted and terrified us was filled with food for thought. It almost reminded me of how some folks responded to people who had AIDS in the 1980s or to people who abuse drugs in the present day.
It would have been nice to see more time spent on the backstories of Abbie and of the doctor who cured Senan. Both of these women gave small hints about their experiences during the zombiepocalypse, but there was so much more room there for development. Yes, Senan had a unique tale to tell, but so did a woman who kept her baby alive for four years as a single parent in such a harrowing environment as well as a doctor who bravely treated and eventually cured many of the zombies while paying a terrible price for her courage.
I liked the way this film explored how Senan's life  had been forever altered by their pasts. Finally having a cure is by no means the same as an outbreak never occurring at all. While he had found a new sense of normalcy, he'd never be able to forget the events that set his story into motion in the first place.
I'd recommend The Cured to anyone who likes dramas.
(If you decide to watch the trailer below before watching this film, do keep in mind that it gives away some big plot twists. Someday I should write a post about why trailers shouldn't do that!)
The Cured is available on Netflix.