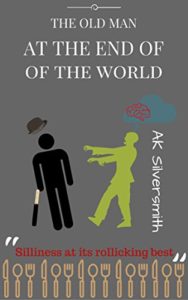 Title: The Old Man at the End of the World
Author: AK Silversmith
Publisher: Self-Published
Publication Date: February 15, 2017
Genres: Science Fiction, Horror, Humour, Contemporary
Length: 67 pages
Source: I received a free copy from the author.
Rating: 3 Stars
Blurb:
The end is nigh…. and Gerald Stockwell-Poulter has had quite enough of it already. Pesky business altogether. All this hiding and running about. Makes Brexit look like a doddle.
After 87 largely well-behaved years as a model citizen, less than four hours into the 'zompocalypse' and he has already killed a neighbour, rescued a moody millennial drug dealer and forged an unlikely allegiance with a giant ginger Scotsman. And it isn't even tea time.
Join Gerald as he and his newfound allies navigate the post-apocalyptic English countryside in their hilarious bid to stay off the menu.
Review:
Content Warning: Blood, gore, and (obviously) zombies. I will be discussing these things briefly in my review.
This isn't the quiet retirement Gerald was hoping for.
The character development was well done. Gerald's default emotional range fell somewhere in the vicinity of various shades of grumpiness, and he certainly had a lot to be annoyed about about here when the plot gave him opportunities to express his feelings. I enjoyed contrasting his reaction to the sudden appearance of zombies with how other people reacted, especially since Gerald didn't pay attention to the news and had no idea what was happening in the first scene. It was amusing to see him essentially shrug his shoulders at such a momentous shift in human history and get on with his life as best as he could.
It would have been helpful to have more plot development. I started this not realizing it was the beginning of a serial, so it came a surprise to me to see how long it took anything to happen and how abruptly everything ended. Yes, serials need to end on an exciting note in order to keep their readers hooked, but in this case the storyline evolved so slowly that I struggled to remain interested even though I was initially thrilled by the thought of describing a zombiepocalypse from the perspective of someone in their 80s.
I chuckled at the dry British humour in this novella. Gerald and his allies were far less afraid of zombies than most characters are in this genre. If anything, it was a nuisance for them to have to run away from such creatures on such a beautiful day when there was so much gardening to do. They often didn't have strong emotional responses to what was happening to them, and that lighthearted exaggeration of British culture worked nicely with the text. It certainly helped them make logical decisions in the heat of the moment as well.
The Old Man at the End of the World was an intriguing introduction to this series.