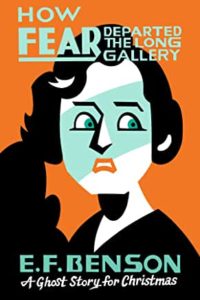 The telling or reading of ghost stories during the Christmas season was once a tradition in Victorian England. This series of books seeks to revive this tradition. As I did in 2020 and 2021, I will continue reviewing several of them each December until I've reached the end of this series. 
Title: How Fear Departed the Long Gallery – A Ghost Story for Christmas (Seth's Christmas Ghost Stories)
Author: E.F. Benson
Publisher: Biblioaisis
Publication Dates: 1911 and 2017
Genres: Paranormal, Historical
Length: 32 pages
Source: I borrowed it from the library.
Rating: 4 Stars
Blurb:
Biblioasis is thrilled to continue this series of beautifully illustrated, collectible, classic Christmas ghost stories designed and illustrated by world-famous cartoonist Seth.
In How Fear Departed the Long Gallery, for the Peverils, the appearance of a ghost is no more upsetting than the appearance of the mailman at an ordinary house. Except for the twin toddlers in the Long Gallery. No one would dare be caught in the Long Gallery after dark. But on this quiet and cloudy afternoon, Madge Peveril is feeling rather drowsy . . .
Review:
Content warning: death of children. I will not be discussing this in my review.
The past and present can be connected in more ways than you'd think.
One of the things I liked the most about this story had to do with how the Peveril family reacted to the many ghosts who haunted their family estate. Since they were related to all of the spirits, seeing the vast majority of them was more akin to unexpectedly spending time with an eccentric or slightly irritating relative instead of anything spooky. These relaxed relationships were a wonderful contrast to how everyone reacted to the dangerous toddler spirits who occasionally appeared in the Long Gallery.
It would have been nice to have fewer clues about what was going to happen next. As much as I enjoyed this tale, it was a little disappointing to see how quickly and accurately I predicted what was going on with the ghostly children and why they were the only spirits this family feared. I'm the sort of reader who enjoys being challenged, and I would have given this a higher rating if it had expected more of its audience.
With that being said, the ending was an immensely satisfying and uplifting. Some of the other stories in this series could be fairly dark at times. It was nice to see a haunting that turned out to be surprisingly positive despite its grimmer moments earlier on in the plot. I also appreciated the main character's ability to think quickly in an emergency. Knowing that she was so smart and capable definitely gave this a lighter tone than it would have otherwise had.
How Fear Departed the Long Gallery is something I'd especially recommend reading aloud tonight or sometime soon. It's perfectly suited for anyone who likes ghost stories during the holiday season.