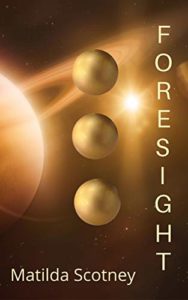 Title: Foresight
Author: Matilda Scotney
Publisher: Off the Planet Books (Self-Published)
Publication Date: February 21, 2021
Genres: Science Fiction, Young Adult
Length: 61 pages
Source: I received a free copy from the author
Rating: 4 Stars
Blurb:
Starlight, star bright,
The very first star I see tonight,
I wish I may, I wish I might
Have the wish, I wish tonight.
A metaphysical tale…
Review:
Not only are there two sides to every story, sometimes there are far more sides than that!
The subtlety of the first scene made me smile. There are precious few tales out there that are set in December but are purposefully not about Christmas, New Year's Eve, or any other holiday that occurs during that month. I was impressed by the way the author captured the beauty that can be found at the end of the year, from the crisp, clear skies to the sharp nip of the wind as autumn slowly turns into winter. These descriptions might not seem to be related to the themes of later scenes at first glance, but give them time to grow. They have a message to share with any reader who is patient enough to keep going and to avoid making assumptions about what might happen next.
I would have liked to see more character development in this short story. It included such a large number of characters that it was difficult to get to know anyone well, much less to spend enough time with them to take note of the ways in which they were changing as a result of their experiences with the alien vessels. There was so much more space here to explore all of their personalities and backstories. If that had happened, I would have happily gone with a full five-star rating.
With that being said, I was delighted by the wide variety of perspectives the author included. I can't say much about the alien vessels the characters were discussing without giving away spoilers, but it was fascinating to see how differently everyone reacted to them. Some characters viewed them as a threat while others had much more creative reactions to the idea that humans might not be alone in the universe after all. Absorbing everyone's reactions to them was just as interesting as listening to the the reasons they gave for believing these visitors were anything from a security threat to a muse for creative expression.
Foresight is a must-read for anyone who appreciates thoughtful science fiction.