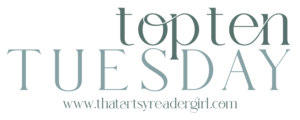 Hosted by That Artsy Reader Girl
Thank you to Cathy @ What Cathy Read Next for coming up with this topic. It's a unique one.
I'd sure want to read all of these newspaper headlines. Many of them could easily appear in a regular newspaper, while others would work best if written by a reporter who lived in a speculative fiction universe.
Some weeks I can only come up with four or five answers, so this time I'll happily be going over the limit to help make up for that.
1. The Secret Life of Bees by Sue Monk Kidd
2. 5 Very Good Reasons to Punch a Dolphin in the Mouth and Other Useful Guides by Matthew Inman
3. I Kissed a Zombie, and I Liked It by Adam Selzer
4. Do Androids Dream of Electric Sheep? by Philip K. Dick
5. By the Time You Read This, I'll Be Dead by Julie Anne Peters
6. The Lake of Dead Languages by Carol Goodman
7. The Spiders of Allah: Travels of an Unbeliever on the Frontline of Holy War by James Hider
8. 15 Days Without a Head by Dave Cousins
9. How to Say Goodbye in Robot by Natalie Standiford
10. The Butchering Art: Joseph Lister's Quest to Transform the Grisly World of Victorian Medicine
by Lindsey Fitzharris
11. Making Mummies, Shrinking Heads: And Other Useful Skills by Pat Murphy
12. First You Write: The Worst Way to Become an Almost Famous Author And The Best Advice I Got While Doing It by Joni Rodgers
13. Great Gals: Inspired Ideas for Living a Kick-Ass Life by Summer Pierre