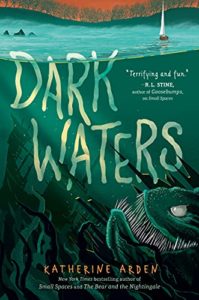 Title: Dark Waters
Author: Katherine Arden
Publisher: G.P. Putnam's Sons Books for Young Readers
Publication Date: August 10, 2021
Genres: Middle Grade, Fantasy, Mystery, Paranormal, Horror, Contemporary
Length: 256 pages
Source: I borrowed it from my local library.
Rating: 3 Stars
Blurb:
An Indie Bestseller!
Filled with chills and spooks galore, New York Times bestselling author Katherine Arden's latest installment in the creep-tastic Small Spaces Quartet is sure to haunt.
Until next time. That was chilling promise made to Ollie, Coco and Brian after they outsmarted the smiling man at Mount Hemlock Resort. And as the trio knows, the smiling man always keeps his promises. So when the lights flicker on and off at Brian's family's inn and a boom sounds at the door, there's just one visitor it could be. Only, there's no one there, just a cryptic note left outside signed simply as —S.
The smiling man loves his games and it seems a new one is afoot. But first, the three friends will have to survive a group trip to Lake Champlain where it's said Vermont's very own Loch Ness monster lives. When they're left shipwrecked on an island haunted by a monster on both land and sea, Brian's survival instincts kick in and it's up to him to help everyone work together and find a way to escape.
One thing is for sure, the smiling man is back and he wants a rematch. And this time Brian is ready to play.
Review:
Content Warning: Snakes, shipwreck, snake bite, and death of a parent. I will not be discussing these things in my review.
It was only supposed to be a short boat tour, but anything can happen out on the water.
In my review of the second story in this series, I mentioned yearning to read one of these adventures from Brian's perspective. It was exciting to crack open this one and realize my wish had been granted. Brian's parents were more protective of their son in certain ways than could be said for Ollie or Coco, so it was interesting to see how he balanced his parents' expectations that he would be a studious kid who socialized most often with his family with his own desire to spend so much of his free time with his two best friends. This tension between him and his parents went a long way in explaining some of his personality quirks that I'd noticed earlier in the series. It was wonderful to get to know him better.
The abrupt ending caught me by surprise. It happened exactly when the storyline picked up speed and had reached its most exciting portion. While I think I understand what the author was trying to do here and hope it does pay off in the final instalment, it was jarring as a reader to transition from an adrenaline-surging scene to turning a page and realizing this book had suddenly ended. I was disappointed by the lack of closure for the conflicts that the characters were dealing with.
With that being said, there was a minor conflict involving bullying from Small Spaces that was finally resolved here. It wasn't something I was expecting to see the characters bring up again, so it was nice to watch them work it out and come to an agreeable conclusion. This did give me hope that the author will do the same thing for the many conflicts that were introduced here but left hanging at the end. I will be reading the fourth and final book with high hopes that it will earn a much higher rating from me than this one did.
This is the third instalment in the Small Spaces Quartet. Be sure to read Small Spaces and Dead Voices first as there were references to those tales here that will only make sense to people who have read this series in order.
Dark Waters was an exciting nautical adventure.