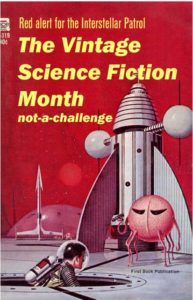 Vintage Science Fiction month takes place every January, and has a few guidelines:
 – read, watch, listen to, or experience something science fiction / fantasy that was created in 1979 or earlier
 – talk about it online sometime in January
 – have fun
If any of my readers are also interested in participating this month, let Little Red Reviewer know about your posts if you'd like them to be included in her official roundups. 
Today I'm going to be blogging about "Second Variety," a science fiction novelette by Philip K. Dick about what happened to the Earth and the few remaining humans on it after a nuclear war erupted between the Soviet Union and the United Nations.  This tale was originally published in 1953, but many of the themes in it still feel fresh nearly 70 years later.
Click here to read "Second Variety" for free. Everything after this sentence and in the tags of this post contains spoilers for this story, so reader beware!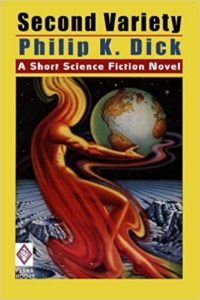 The first thing that grabbed my imagination when I was reading this tale had to do with the destruction of the natural environment. There was so much devastation everywhere the characters looked.
It briefly reminded me of the massive forest fires currently burning in Australia. Just like in our world, the lion's share of the suffering was shouldered by innocent living beings – human and otherwise – that were never given a choice in the matter. It was utterly unfair.
While this is a story about war, it's not a war story. The biggest battles have long-since happened by the time we meet the main characters, and the addition of a new enemy has already thrown both sides off-kilter. The exhaustion of fighting an enemy that never needs to sleep or fulfill other human needs also added a new twist to this post-apocalyptic world.
There were actually times when I felt a little sorry for the robots. Yes, they were attacking humans…but they weren't the ones responsible for causing such severe environmental damage that Europe and vast swaths of North America were no longer able to grow any food at all. They were just following the orders they'd been given by their creators.
With that being said, I still loved the plot twists involving the robots and what they were capable of doing. They technically weren't alive, but they sure acted like it. Not only did they repair themselves when broken, they paid close attention to what was left of human culture and looked for any weaknesses they could find and take advantage of. That's not something I'd normally expect from a robot!
As someone who has read a ton of post-apocalyptic and robotic science fiction, I figured out where this story would probably end up pretty early on. That isn't a criticism of the piece, though. It wouldn't surprise me if a lot of other authors were influenced by Mr. Dick's writing style kind of like modern authors have written things that echo the Harry Potter series or various Margaret Atwood novels.
This repetition and evolution of ideas is common in all genres. It will be interesting to see if any of my fellow scifi fans had the same reaction to this story, especially where the ending is concerned.