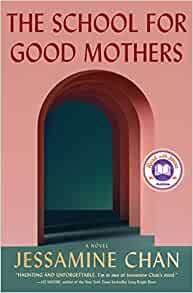 Title: The School for Good Mothers
Author: Jessamine Chan
Publisher: Simon & Schuster
Publication Date: January 4, 2022
Genres: Science Fiction, Dystopia, Contemporary
Length: 336 pages
Source: I borrowed it from the library.
Rating: 3 Stars
Blurb:
In this taut and explosive debut novel, one lapse in judgement lands a young mother in a government reform program where custody of her child hangs in the balance.
Frida Liu is struggling. She doesn't have a career worthy of her Chinese immigrant parents' sacrifices. She can't persuade her husband, Gust, to give up his wellness-obsessed younger mistress. Only with Harriet, their cherubic daughter, does Frida finally attain the perfection expected of her. Harriet may be all she has, but she is just enough.
Until Frida has a very bad day.
The state has its eyes on mothers like Frida. The ones who check their phones, letting their children get injured on the playground; who let their children walk home alone. Because of one moment of poor judgment, a host of government officials will now determine if Frida is a candidate for a Big Brother-like institution that measures the success or failure of a mother's devotion.
Faced with the possibility of losing Harriet, Frida must prove that a bad mother can be redeemed. That she can learn to be good.
A searing page-turner that is also a transgressive novel of ideas about the perils of "perfect" upper-middle class parenting; the violence enacted upon women by both the state and, at times, one another; the systems that separate families; and the boundlessness of love, The School for Good Mothers introduces, in Frida, an everywoman for the ages. Using dark wit to explore the pains and joys of the deepest ties that bind us, Chan has written a modern literary classic.
Review:
Content Warning: Physical abuse, emotional abuse, child abuse, child neglect, kidnapping, mental illness, and suicide. I will briefly mention the abuse and mental illness in my review.
What does it mean to be a decent parent, and who should decide how and when to judge the parenting of others?
Some of my favourite scenes were the ones that explored the science fiction elements of the plot. This school wasn't like anything we have in our world, although it did take a while for the fantastical elements of it to make themselves known. I was eager to figure out how the scientific advancements that were described there worked and if they would accomplish the goals that the program was designed to pursue. Every new revelation only made me yearn to learn even more. As much as I want to gush about this topic in great detail, it's best if other readers discover everything for themselves.
This tale needed more character development. The act that lead to Frida being sent to The School for Good Mothers was so bizarre that I was disappointed by how little time was spent exploring why she did it when she had so many other options available to her. It was a pattern that repeated itself after she was sent to the school and began getting to know the other mothers there. The audience learned the reasons why everyone had ended up there, but we really didn't' get to know the characters well as individuals. Nearly their entire identities were swallowed up by what they did, why that made them terrible mothers, and how they were learning to be better. I did wonder if this might have been purposefully written this way to make a point about how women are expected to subsume all of their desires, hopes, and dreams to parenthood, With that being said, text never really made that clear, and I struggled to emotionally connect with the characters because of how tricky it was to get to know them as individuals.
I was impressed by the attention the author paid to how race, social class, sex, mental health, and other factors affected how parents were judged in this universe. Not only were the rules much less stringent for folks who were white, male, able-bodied, and wealthy, breaking them had far fewer negative consequences as well. This book did a wonderful job of exploring the nuances of intersectionality and showing how the system set some people up for success and others for failure from day one. If it had continued to focus on this instead of veering off into other directions, I would have gone with a much higher rating.
It was also confusing to me to see how many different types of mothers were sent to the same school. Some of them were found guilty of things that weren't even examples of abusive or neglectful parenting. They could easily be explained away as cultural or parenting philosophy differences. Other parents were an entirely different story, though, and I actually ended up agreeing with the authorities that those specific mothers were too dangerous to currently have custody of their children due to issues like serious physical abuse. This isn't to say I necessarily thought they should lose custody permanently, only that it was really odd to me to group the small number of them who needed extensive help in with parents who left dirty dishes in their sinks or let their children walk a few blocks away to the local library. While i understood the point the author was making about the grossly unfair expectations society places on mothers that is often poisoned by racism, classism, sexism, and other forms of prejudice, it simply didn't make sense to me from a storytelling perspective to group everyone together like this. Surely the authorities should have been smarter than that and at least assigned characters to different classrooms or treatment modules based on the severity of their convictions.
The ending was well written. It was the logical outcome of everything Frida had experienced and learned during her year at the School for Good Mothers. I enjoyed looking back and taking note of the foreshadowing that had been shared earlier, too. The author struck a nice balance between hinting at what was to come to the audience without giving us too many clues about everything she had up her sleeves. A sequel would be nice, but I also felt satisfied by how the main storylines were resolved and what probably happened to the characters after the end of the last scene.
The School for Good Mothers was a thought-provoking read.