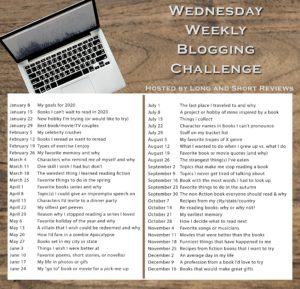 Happy New Year! Long and Short Reviews has released the list of topics for their second year of Wednesday Weekly Blogging Challenge posts. There isn't a topic for today, but I will be participating in it again beginning next week.
If you can't read the graphic above, here is the list of prompts and the dates they've been scheduled for. Everyone is welcome to join in!
January
8 – My Goals for 2020
15 –  Books I Can't Wait to Read in 2020
22 – New Hobby I'm Trying (or would like to try)
29 – Best Book/Movie/TV Couples
February
5 – My Celebrity Crushes
12 – Books I Reread or Want to Reread
19 –  Types of Exercise I Enjoy
26 – My Favourite Memory and Why
March
4 –  Characters Who Remind Me of Myself and Why
11 – One Skill I Wish I Had But Don't 
18 –  The Weirdest Thing I Learned Reading Fiction 
25 – Favourite Things to Do in the Spring
April
1 –  Favourite Book Series and Why
8 – Topic(s) I Could Give an Impromptu Speech On
15 –  Characters I'd Invite to a Dinner Party
22 –  My Silliest Pet Peeve
29 – Reasons Why I stopped Reading a Series I Loved
May
6 – Favourite Holiday of the Year and Why
13 – A Villain That I Wish Could Be Redeemed and Why
20 – How I'd Fare in a Zombie Apocalypse
27 – Books Set in My City or State
June 
3 – Things I Wish I Were Better At
10 –  Favourite Poems, Short Stories, or Novellas
17 – My Life in Photos or Gifs
24 – My "go to" Book or Movie for a Pick-Me-Up
July
1 – The Last Place I Traveled to and Why
8 –  A Project or Hobby of Mine Inspired By a Book
15 – Things I Collect
22 –  Character Names in a Book I Can't Pronounce
29 – Stuff on My Bucket List
August
5 – My Favourite Tropes of X Genre
12 – What I Wanted to Do When I Grew Up vs. What I Do
19 – Favourite Book or Movies Quotes (and Why)
26 – The Strangest Thing(s) I've Eaten
September
2 – Topics That Make Me Stop Reading a Book
9 – Topics I Never Get Tired of Talking About
16 – Books with the Most Words I Had to Look Up
23 – Favourite Things to Do in the Autumn
30 –  The Non-Fiction Book Everyone Should Read and Why
October
7 – Recipes From My City/State/Country
14 – Re-reading Books: Why or Why Not? 
21 – My Earliest Memory 
28 – How I Decide What to Read Next
November
4 – Favourite Songs or Musicians
11 – Movies That Were Better Than the Books
18 –  Funniest Things That Have Happened To Me
25 – Recipes from Fiction Books That I Want to Try
December
2 – An Average Day in My Life
9 – A Profession From a Book I'd Love to Try
16 – Books That Would Make Great Gifts