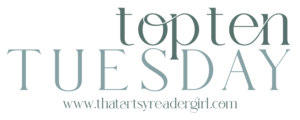 Hosted by That Artsy Reader Girl
An hour was the unit of time I chose for this week's prompt. Let's see which book titles fit this theme.
1. Cocktail Hour Under the Tree of Forgetfulness by Alexandra Fuller
2. The Silent Hour (Lincoln Perry, #4) by Michael Koryta
3. The Shadow Hour (The Girl at Midnight, #2) by Melissa Grey
4. The Golden Hour (Time-Travel Series, #1) by Maiya Williams
I normally try to respond to Top Ten Tuesday posts with books that I've read, but this time I could only find examples of books that fit this theme that I have not read yet.
If you've read anything on this list, I'd love to hear your opinion of it!