Hosted by That Artsy Reader Girl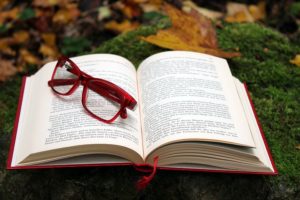 This is one of those topics that I'm guessing a lot of us will choose the same answers for. Only time will tell if I'm right about that.
Most of these tales are set in the autumn, so that's by far my biggest reason for choosing them.
I've written a similar post to this one recently. Due to that, I'm going to keep this list short and sweet to avoid duplicates.
1. Dead Poets Society by N.H. Kleinbaum
Why:  If you haven't seen the 1980s adaptation of this book, go find a copy of it. It was incredibly well done, especially later on in the plot once one of the main characters who was depressed feels like all hope is lost. My own struggles with depression were often the worst around the time that autumn turned to winter, so this character's experiences at the same time of the year make this something I'll always associate with autumn.
2. The Fellowship of the Ring (The Lord of the Rings #1) byJ.R.R. Tolkien
Why: The Lord of the Rings series also had a lot of themes related to death and the endings of various eras or kingdoms. There's something about watching the natural world die for the season or go into hibernation that makes me ponder these topics, too.
3. Alias Grace by Margaret Atwood
Why: Most of the events of this tale were not set during the autumn, but the themes in it were heavily related to death, loss, change, and other things I associate with this season.There was also a twist at the end that oddly reminded me of spring! Saying anything else would give away spoilers, though.
4. Autumn Days: Let's Look at the Seasons by Ann Schweninger
Why: This picture book about autumn is self-explanatory, I think.
5. The Waste Land by T.S. Eliot
Why: It was autumn the first time I read this poem. The subject matter of it has a lot of autumn themes related to things ending, so that only cements it further as something that belongs to this season.