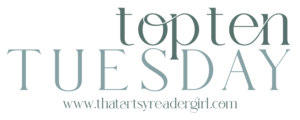 Hosted by That Artsy Reader Girl
I don't read many books with mushy, sweet, or cute moments in them, so let's see what I can come up with.
Please note there are spoilers in this post and that some of these books discuss difficult topics like what life was like in British workhouses in the 1800s. Even sometimes painful stories can include happy moments or end on a blissful note, though!
1. A young girl in "Farewell to the East End" by Jennifer Worth  was terribly abused and neglected while she spent her entire childhood in a British workhouse. After she grew up, she was sort of unofffically adopted by the nuns of St. Nonnatus. They made sure she always had a job and a welcoming place to spend Christmas and other holidays. What really warmed my heart, though, was what happened when she fell in love with a wonderful man who gave her the happily ever after she'd dreamed of since she was a little girl.
2.Roderick Ayers was dealing with chronic pain, stiffness, and weakness in his leg as a result of a World War II injury in "The Little Stranger" by Sarah Waters. Seeing Dr. Faraday take his injury seriously and try a brand new therapy for it gave me an aww moment because sometimes modern doctors don't do a good job of treating these sorts of things. Even though this is fiction and set about 80 years ago, it still made me smile to see a doctor listen and do his best to help. Compassion is so important.
3. There was a hilarious and adorable scene in "A Prayer for the Crown-Shy (Monk & Robot Series Book 2)" by Becky Chambers that showed the robot hemming and hawing over whether it would be acceptable to replace a broken part of his body that was necessary for him to function. He worried he would break robot law by accepting it and tried to convince the humans to make that part out of something biodegradable so it would feel more natural. This illuminated an entirely new portion of his personality and made me love him even more.
4. The first page of "To Walk About in Freedom: The Long Emancipation of Priscilla Joyner" by Carole Emberton described how Mrs. Joyner reacted when two strangers from the Federal Writers' Project approached her in the 1930s to record her biography as the biracial daughter of a southern white woman in the 1850s. Mrs. Joyner said, "That's nice. Would you like to see my garden?" and proceeded to show them her garden before telling them anything about her unique childhood. Wasn't that a sweet answer?
Those are my answers. I look forward to seeing what you all came up with.