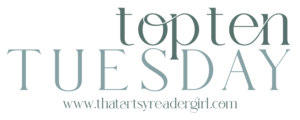 Hosted by That Artsy Reader Girl
I tweaked the themes of the last two Top Ten Tuesday posts, but this time I'm sticking to the script! Some of them will have explanations, but it didn't feel necessary for others.
1. Vorpal
Okay, so this is technically only a word because Lewis Carroll said it was….but many other new words have been invented since then, so I still say it counts.
2. Petrichor 
I was so happy to learn there's an official word for that lovely scent that happens after a rainstorm.
3. Gossamer 
4. Bucolic
I adore the feeling of this word rolling off of my tongue. Part of my childhood was spent living on a few different farms. There are many pleasant aspects of rural life to be sure, but I chuckle and shake my head at people who romanticize it. I can only hope they'll spend a lot of time researching what life is really like there in every season of the year before moving.
5. Panacea
6. Curmudgeon
This isn't to say being around grumpy people is relaxing or uplifting….but curmudgeon itself is such a great word.
7. Oeuvre 
It refers to the entire body of work of a writer, painter, musician, etc. Pronouncing it is delightful, too.
8. Palimpsest
That is to say, a manuscript written over a previous manuscript or manuscripts. It's such a poetic and thrifty mental image.
9. Sequoia 
10. Defervescence
There's nothing like the shaky, exhausted relief that comes when a fever breaks and your temperature (or the temperature of someone you love) finally goes back to normal.