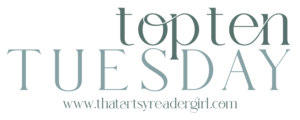 Hosted by That Artsy Reader Girl
Today's topic made me feel like I was back in college and a professor just gave us a pop quiz. Luckily, I was generally pretty well prepared for such things, and, of course, Jana would never hand out grades or anything.
Here are the goals I set last winter. My progress on them will be noted in bold.
1. Read more classic novels this winter. Accomplished.
2. Submit a Top Ten Tuesday theme to Jana that she ends up using. Not Accomplished, but hope springs eternal.
3. Enjoy lots of ghost stories. Accomplished, but I always want more.
4. Attend more library and other bookish events either virtually or in person. Accomplished.
5. Read more nonfiction. Accomplished. 
6. Patronize independent bookstores. Not Accomplished.
7. Eat more food featured in books. Not Accomplished, but working on it. 
8. Try poetry again. Accomplished, but I didn't find anything I liked. 
9. Buy bookish socks. Not Accomplished, but I have my eye on a few pairs that could work. 
10. Convince the entertainment industry to make excellent film or television adaptations of all of our favourite books. Hehe! Not Accomplished, but hope spring eternal.
5 out of 10 isn't bad.
Maybe I'll get up to 7 or 8 out of 10 before the new year?