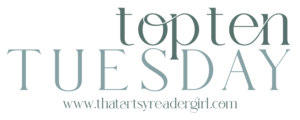 Hosted by That Artsy Reader Girl
Here's a confession that might put me at odds with the bookish community: I don't do a lot of novel reading when I'm on vacation unless the weather is terrible, I get sick, or I'm enjoying a staycation and therefore won't be sight seeing or reconnecting with faraway loved ones.
If I only have a week in an exciting destination, I'd rather check out their restaurants, hiking/walking trails, museums, beaches, pools, mountains, festivals, or other cool destinations instead.
Therefore, I'm going to tweak this week's prompt to discuss the types of tales I read when I'm on vacation.
1. Long Books 
I generally avoid books that have 300+ pages, but I'll sometimes make an exception while on vacation. This is even more true if I'm travelling somewhere that is known to have unpredictable weather or if I'm travelling at a time of year when it may be too hot, cold, or stormy to spend long periods of time outdoors.
2. Humorous Books 
Flying is uncomfortable and makes me nervous, so I try to download at least one humorous book ahead of time to distract me from intimidating security guards, long lines, and then being crammed into a flying tin can with hundreds of other passengers for hours. Ha!
3. Short Stories 
My attention span isn't always strong enough for long, serious reads while on vacation, so I also like to have plenty of short stories from the speculative fiction genre saved to read, too. Apex and Fireside are two of the many sites out there that publish incredible short speculative fiction stories.
4. Genres I Don't Normally Read
It might be a fluffy romance, cozy mystery, celebrity biography, or western.  There's something about being away from home that makes me more interested in expanding my reading horizons.
5. Audiobooks 
One of the other reasons why I dislike flying so much is that turbulence can make me nauseated. Nausea does not pair well with a hot, crowded plane or with my underlying anxiety about scary security guards and this form of travel in general.  If I start feeling queasy, an audiobook is a great distraction while I wait for my anti-nausea medication to begin working.