Hosted by Long and Short Reviews.
Click here to read everyone else's replies to this week's question and here to see the full list of topics for the year.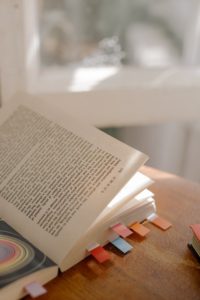 The vast majority of the books I read are ebooks, so my place is always marked in them automatically unless there's a technological glitch. That doesn't make for a very fun answer to this week's prompt, so I'll keep talking.
Back when I read paper books regularly, I did not have a strong opinion about bookmarks.
A pretty, traditional bookmark? Great!
A scrap of paper? Great!
An old receipt I didn't need for anything else? Great!
A $1 bill? Great!
A clean, dry piece of toilet paper in an emergency? That was okay, too, although I found it tore easily and would try to replace it with some other paper product as soon as possible.
I will admit to dog-earing a few pages of books I owned when I was a kid, but I soon learned to dislike the way that damaged books and stopped doing it. (What other people do with their own books is of no concern to me).
I know that conversations like these can be more interesting when people have strong opinions about them, but I do not have any strong opinions on this topic. All I care about is that a bookmark keeps my place in a story so that I can quickly jump back into it when I have more spare time.
Although I am always interested in seeing other people's fancy bookmarks and asking them questions about where they got them and what personal significance the artwork might hold for them if they're willing to share.