Hosted by Long and Short Reviews.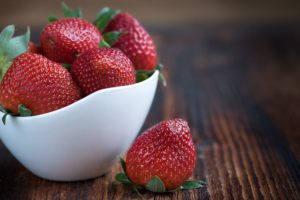 Fellow participants, I have one word for you: strawberries.
They're in season in June and July here in southern Ontario. My grandmother serves strawberries, milk, and sugar to relatives as a light supper on hot days when no one is that hungry and she doesn't want to heat up the kitchen.
Most of the time, I slice them up and eat them plain. They're so sweet and juicy that they really don't need the extra sugar in my opinion.
Occasionally, though, I make my family's shortcake recipe and eat it with almond milk and sliced strawberries.
This is a pretty forgiving recipe. You can use half the sugar if you're serving it someone who needs to watch their sugar intake. It works well with many different combinations of flour, fats, and types of milk, too, so feel free to play around with it if you need to avoid certain ingredients for whatever reason.
I should warn you that the shortcake this recipe makes is denser than what you might find in the store, though. Think something heavier, not a fluffy baked good like angel food cake. It's made that way on purpose so that the shortcake will soak up all of the milk you're about to pour on it and gradually crumble into cold, soup-y deliciousness as you reach the bottom of the bowl.
Strawberry Shortcake
Ingredients:
2 1/2 cups of flour (i generally use half whole wheat and half white, but 100% white flour works well, too)
2 teaspoons baking powder
1/2 teaspoon salt
2 eggs
1 cup sugar
1 cup milk  (soy or rice milk works well, too)
2 tablespoons butter (oil or margarine works well, too)
1 teaspoon vanilla
Toppings:
Sliced strawberries
Whipped cream
Table sugar
Milk
Directions:
Stir the three dry ingredients in a large bowl.
Beat eggs, milk, vanilla, and melted butter together in a separate bowl.
Combine the wet and dry ingredients together. Mix everything until it's moist, but be careful not to overmix it. The batter might look a little lumpy. That's okay.
Pour the batter into a greased 8 or 9 inch cake pan. A square 8×8 pan also works fine for this recipe.
Bake at 375 Fahrenheit for 25-30 minutes. You'll know it's finished when you can stick a butter knife or toothpick into the shortbread and have it come out again without any batter sticking to it.
Serving Size and Presentation
This will make about nine servings of shortbread depending on the size of your pan.
Serve with sliced strawberries, a sprinkling of table sugar, a little bit of milk, and (optional) whipped cream.
I nearly always choose strawberries for this dessert because I love them so much, but this also works nicely with other types of berries if anyone reading this dislikes or is allergic to strawberries. Like I said before, there is plenty of flexibility in this recipe. That's one of the reasons why I enjoy it so much!
Click here to read everyone else's replies to this week's question. The image below is the list of upcoming prompts for this blog hop.