Hosted by Long and Short Reviews.
Part of the reason why I'm so intrigued by this week's prompt is that winter is my least favourite season of them all. Y'all, I have to admit that I do get a little grumpy by the end of it when it feels like we're never going to have a warm, sunny day again, and this is coming from someone who actually lives in one of the less snowy parts of Canada!
I can't imagine what it would be like to live somewhere like the Yukon Territories where "winter" weather essentially begins in late September and lasts until May or June.
Luckily, there are fun things to do when the weather outside is frightful. This is what i'll be keeping myself busy with over the next few months until the temperatures rise again in April.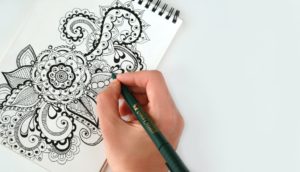 Filling Out Adult Coloring Books. There's something so meditative about them.
Watching Netflix. See also: documentaries (especially if they're about NASA or nature), goofy comedies like Fuller House, and ghost stories.
Catching Up on My To-Read List. There are so many books out there I've been meaning to read. Let's see how many of them I can actually finish before the weather warms up.
Studying Spanish. Enough said there. Learning a new language is so good for your brain, and it gives you a lot of sympathy for people who are learning English as their second language, too!
Braving the Cold. I do occasionally enjoy going out in the cold and watching the snow fall for a little while. It makes me grateful for the warm, indoor places where I spend most of my time.
How about all of you?