Hosted by Long and Short Reviews.
Click here to read everyone else's replies to this week's question and here to see the full list of topics for the year.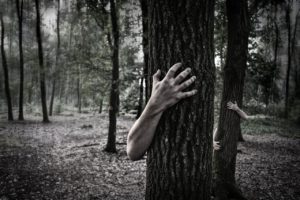 This is one of those topics I've spent a lot of time thinking about.
On the helpful side, I'm young, intelligent, healthy, and physically fit. There are very few foods I dislike, so I'd eat the canned lima beans or whatever else it is that others can't or won't eat.  I have shot a gun before, and my current fitness regime includes plenty of cardio and weightlifting every week. My understanding of first aid is basic but solid. I'd easily be able to outrun slow zombies or come up with a creative escape plan if the fast ones tried to break into my home.
On the unhelpful side, my milk allergy could make it hard to find safe food for me to eat after some time has passed. A lot of shelf stable food has some form of dairy in it unless we're looking at plain cans of beans or dry pasta. I'm also short, petite, and not-at-all what anyone would call intimidating. And while I have a shot guns before, hitting targets reliably isn't something I'd count as one of my skills.
I think I'd survive well in the short term. Whether I made it longterm would depend on if I could link up with people whose strengths complimented my weaknesses. Maybe they could do the shooting and the heavier hand-to-hand combat and I could scavenge for more food and bandage up any wounds other people received?