Hosted by Long and Short Reviews.
Click here to read everyone else's replies to this week's question and here to see the full list of topics for the year.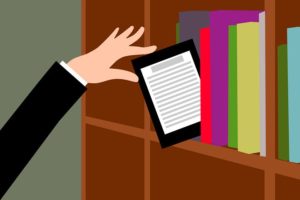 Ebooks are my first choice because they enable me to carry hundreds of books around with me wherever I go. It's easy to bookmark where I stopped reading, and I never have to worry about having an allergic reaction to them.
With that being said, I did begin to learn to enjoy audiobooks last year. It's nice to listen to a story unfold while you're doing chores or taking a walk, especially if it's something I've read many times before.
Sometimes I get distracted while using audiobooks, so my preference is to save them for rereads of old favourites. This way it doesn't matter if I accidentally tune out for 10 minutes. I'll still know what happened and what will happen next.
Paper books often cause uncomfortable allergic reactions for me if they have any mold, mildew, or dust in them at all. The older a book is, the harder it becomes to completely avoid these things in them. My immune system is pretty sensitive to the slightest whiff of this stuff. If only I could somehow monetize that superpower!
I tend not to read paper books for this reason unless I'm travelling somewhere that doesn't have reliable internet or electricity. With that being said, they're an awesome choice if you're going camping in the middle of nowhere or if the power goes out.