Hosted by Long and Short Reviews.
Click here to read everyone else's replies to this week's question and here to see the full list of topics for the year.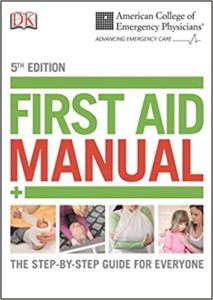 Narrowing down my ideas to only one suggestion was tough. There are many topics I believe all adults should have a good working knowledge of, from history to budgeting, the latest scientific data on what constitutes a healthy diet to how to do basic repairs at home.
But by far the most important book everyone should read is anything that gives scientifically-accurate, up-to-date information on first aid like the American College of Emergency Physicians' First Aid Manual.
(Ideally, I'd want everyone to take a basic first aid course, too! I took one many years ago and hope to refresh my memory as soon as these sorts of classes are offered again in Toronto).
No matter who you are or where you live, there may come a time when you or someone near you about will unexpectedly need medical care for a physical or mental health condition if it hasn't happened already.
It's imperative that all of us know how to:
Determine when you should call a medical provider in a day or two, visit a non-urgent medical clinic this afternoon, or call for an ambulance immediately.
Immobilize a broken bone
React to possible spinal injuries or head trauma after an accident
Treat burns, sprains, cuts, fevers, panic attacks, dehydration, blisters, bruises, bites, sunburns, nausea, gastroenteritis, heat exhaustion, hypothermia and other illnesses that may or may not be able to be treated at home depending on the circumstances.
Help someone who is choking, seizing, having an asthma attack, or having a mental health crisis
Safely address heavy bleeding after, say, a puncture wound
Perform CPR
Recognize the signs of a heart attack, stroke, severe allergic reaction, or any other life-threatening health problem
Behave in an emergency in general.
There are no doubt other many other things to add to this list, too. Some people will naturally freeze up in an emergency, so it's crucial that all of us study the best ways to react when someone suddenly needs medical care.
The more of us that know how to respond to scenarios like these, the easier it will be for everyone who needs help to receive it whether they're being treated by a lay person or a professional.
Have you taken a first aid class? Have you read any nonfiction books on this topic recently? I'm curious to hear your thoughts on my pick for this topic and see what everyone chose as their answers, too.