Hosted by Long and Short Reviews.
Click here to read everyone else's replies to this week's question and here to see the full list of topics for the year.
Quick! Imagine a carrot.
What colour is it?
I'm going to guess you all picked the colour orange.
One of the weirdest and most interesting things I've learned from a book is that carrots weren't originally orange. Up until the late seventeenth century, they were nearly always purple. You might see a rare one that was white or yellow, but those colours weren't encouraged by carrot farms.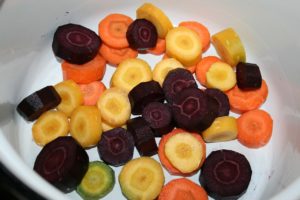 How did that change? Some Dutch growers began cross-breeding different types of carrots in the late 1600s. It's thought that they probably crossed purple carrots with white ones to eventually create the orange carrots we all know.
They also selectively bred this crop to make carrots bigger, juicer, and sweeter than the ones that people ate in previous generations.
I wasn't able to find the book that mentioned this, but this article has more information for anyone who is interested.