Hosted by Long and Short Reviews.
To the best of my knowledge, I'm currently the only Canadian who participates in the Wednesday Weekly Blogging Challenge. (If I'm wrong about that, please do speak up!)  I thought it would be interesting to share some of my favourite books about our history with everyone else. Let's begin with the serious titles and end with the lighthearted ones.
The Serious Titles
Check out these books if learning about history is a hobby of yours or if history was your favourite subject in school.
Canada: Canadian History: From Aboriginals to Modern Society – The People, Places and Events That Shaped The History of Canada and North America by William D. Willis.
The Blacks in Canada: A History, Second Edition by Robin W. Winks.
Your Country, My Country: A Unified History of the United States and Canada by Robert Bothwell.
Through Feminist Eyes: Essays On Canadian Women's History by Joan Sangster.
On a Lighter Note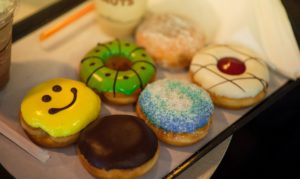 I regularly read nonfiction books about history, but they're generally not about the sorts of topics you'd learn in a formal class on this topic. Instead, I tend to be drawn to descriptions of things like the food or social customs of people who weren't wealthy or famous. There's something incredibly interesting to me about learning about what the daily lives of ordinary people were like a few or many generations ago
The Donut: A Canadian History by Steve Penfold
What's to Eat?: Entrées in Canadian Food History by Nathalie Cooke (Editor)
Snacks: A Canadian Food History by Janis Thiessen
Brew North: How Canadians Made Beer and Beer Made Canada by Ian Coutts.
Does anyone else here like to read about history? If so, what parts of it do you find most appealing?