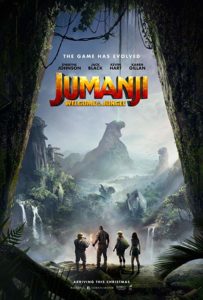 Content warning: snakes and bugs. I will not be discussing these topics in my review.
Jumanji: Welcome to the Jungle is a 2017 fantasy, action, and comedic film about four high school students who were accidentally transported into a magical video game and needed to beat every level of it in order to get back to the real world.
This movie is a reboot of a franchise that began with the original Jumanji in 1996. According to my spouse, there were multiple Easter eggs from the first version of this tale tucked into the storyline, so keep an eye out for them if you're already familiar with this franchise.
With that being said, I'd never seen the original and had no problem figuring out what was happening in the plot or who the characters were because everything was explained clearly.
Some of the secondary characters had too many spoilers wrapped up into their backstories to be introduced in this post, so I'll stick with the four protagonists in the character section of this review. They will be described both as their game world avatars and real life personas.
Characters
Game World
Dr. Smolder Bravestone was a strong, confident archeologist, explorer, and team leader.  He was Spencer's avatar.
Professor Sheldon "Shelly" Obero was a cartographer, cryptographer, archeologist, and palaeontologist. He was Bethany's avatar.
Franklin "Mouse" Finbar was a zoologist and weapons carrier. He was Fridge's avatar.
Ruby Roundhouse was a martial artist and fighting dancer. She was Martha's avatar.
Real World
Alex Wolff as Spencer Gilpin.
Alex was nerdy and sometimes socially awkward student at Brantford High School.  He and Fridge were childhood best friends, but now he feared he'd been left behind.
Bethany was a  popular, pretty, and self-centered student at Brantford High School. She spent a great deal of time taking selfies and posting them on social media as shown in the photo above.
Anthony was a strong and athletic student at Brantford High School. He was proud of how much work he'd put into his body and enjoyed showing off his strength.
Morgan was a quiet, shy, intelligent, and cynical student at Brantford High School. She struggled with letting people get close to her, especially if she thought they wanted something from her.
My Review
My characters descriptions were more negative than usual in this review. The beginning of this film made it a point to hammer home each character's flaws, how aware they were of them, and how those problems were affecting their lives.
Since the four teens the audience were just introduced to were about to be transformed into video game avatars, getting to know them was crucial.
One of the things this film did incredibly well was to show how each character's tics and habits carried over into the game. All of the adult actors mimicked the teens they were playing so well that it was easy to forget they were acting!
I loved seeing all of the little ways they reminded the audience of their teenaged selves. This was especially funny when it came to Shelly because of how she'd been transformed from a beautiful young girl into a fairly average middle-aged man.
Yes, the storyline did address the gender flip there, but it was done in a very respectful manner. Gender and gender identity was never the butt of the joke in this tale which was refreshing. When the storyline gently made fun of Shelly, it was for her self-absorption and other character flaws, not the fact that she had no idea how to properly urinate standing up. (Although there was a hilarious scene involving just that early on in the plot!)
What I would have liked to see was more attention paid to the character development. The four protagonists were all written in pretty stereotypical manners as you might have gathered from the descriptions of them above. While I understood that much of it was written that way to poke fun at some of the more ridiculous – and even sexist –  tropes in video games, I think more time could have been spent developing the main characters and showing how they were different from typical video game avatars.
As entertaining as the plot was, there were times when I was honestly a bit bored with the characters at times because of how easy it was to predict how they'd behave. I'm saying that with the understanding that a casual video game player like me probably isn't the ideal audience for this sort of film at all. People who immerse themselves in that hobby may have a very different reaction to it, so I don't want this criticism to dissuade anyone from giving it a try if the trailer grabs their interest.
Just remember that there is a lot of tongue-in-cheek stuff going on here. The less seriously you take it, the better.
The cartoonish violence was a lot of fun, though. I'm the sort of person who looks away from the screen or TV when a violent scene pops up, and I was able to handle the fight scenes without a problem. Characters certainly get thrown around a lot in all sorts of ways that are only possible in a virtual world, but there was no blood or gore to make my stomach turn. That was definitely something I appreciated.
All in all, this was an amusing way to spend a couple of hours. It was a light, cheerful storyline that didn't require the audience to do much analyzing at all. You just had to sit back and enjoy the show. There's something to be said for movies like that!
Jumanji: Welcome to the Jungle is available on Netflix.