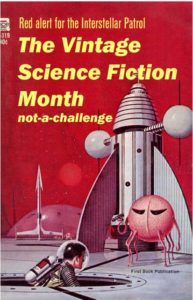 Vintage Science Fiction month takes place every January, and has a few guidelines:
 – read, watch, listen to, or experience something science fiction / fantasy that was created in 1979 or earlier
 – talk about it online sometime in January
 – have fun
If any of my readers are also interested in participating this month, let Little Red Reviewer know about your posts if you'd like them to be included in her official roundups. 

Title: The Machine Stops
Author: E.M. Forster
Publisher: The Oxford and Cambridge Review
Publication Date: November 1909
Genres: Science Fiction
Length: 25 pages
Source: I read it for free on the UC Davis site 
Rating: 3 Stars
Blurb:
"The Machine Stops"" is a science fiction short story (12,300 words) by E. M. Forster. After initial publication in The Oxford and Cambridge Review (November 1909), the story was republished in Forster's The Eternal Moment and Other Stories in 1928. After being voted one of the best novellas up to 1965, it was included that same year in the populist anthology Modern Short Stories.[1] In 1973 it was also included in The Science Fiction Hall of Fame, Volume Two.The story, set in a world where humanity lives underground and relies on a giant machine to provide its needs, predicted technologies such as instant messaging and the Internet."
Review:
Who needs in-person contact when you have virtual gatherings?
There were some fascinating parallels between how Vashti had lived her entire life and what the Covid-19 pandemic was like for those of us who were lucky enough to work from home and order many necessities online. Vashti could summon anything with the touch of a button, from food to a warm bath, to an assortment of friends who wanted to hear a lecture on human history. She virtually never had reason to leave her home at all, and neither did the rest of humanity. It was supposed to keep everyone safe and content, and yet not everyone Vashti met was necessarily happy to live this way for reasons I'll leave up to other readers to explore. What I can say is that staying home to reduce the spread of a pandemic is quite different from spending your entire lifetime in one room no matter how nice that room is. The various human reactions to them are similar, though!
The ending was confusing to me. I needed to google it to make sure that my understanding of what happened in that scene matched what the author was trying to convey. While I did find my answer, I do wish the author had been more forthcoming about what was going on there. He had several thought-provoking ideas he was working with throughout the course of this tale. All he needed to do was develop them a little more fully and I would have given this a much higher rating.
With that being said, I did think the conclusion was much more realistic than what typically happens with dystopian tales published in modern day. I appreciated the fact that the themes and hints embedded in earlier scenes were allowed to play out so naturally. While I did wonder if this twist was coming in advance, that was a good thing. It was nice to have a consistent experience even if it wasn't something that most contemporary authors would do.
The Machine Stops was ahead of its time. Anyone who likes dystopias should check it out.