Hosted by Long and Short Reviews.
This week's topic is "Favourite Comfort Foods & Why (& Recipes)," so of course I just had to play around with the wording of it a little in the title of this post in order to sneak in a reference to The Wizard of Oz. I will now proceed to answer the prompt (mostly) seriously.
Both of my parents grew up in the Mennonite community and have the same general ethnic origins: German and French.
In fact, all of the ancestors we've traced so far came from the Alsace-Lorraine area that was sometimes part of Germany and sometimes part of France depending on which century you're looking at.
If your ancestors ever so much as glanced at that corner of the globe, we are probably third cousins or something.  Ha!
All of the recipes I'm about to share were either printed in the Mennonite Community Cookbook that I've attached a photo of to this post or written on the blank pages of that cookbook.
To the best of my knowledge, they are all traditional German-Mennonite dishes for people from that group who live in Midwest portions of the United States.
Ground Cherry Pie 
If you happen to live in North America, your best best for finding ground cherries would be at your local farmer's market during the summer or autumn. They're a tomato-like fruit that's less sweet than most other fruits. I sure think they taste good in a pie.
My grandmother makes this pie often. I think happy thoughts about her every time I eat it.
Ingredients
2 cups water
1 cup of ground cherries (rinsed off and with their husks removed)
1 cup sugar
2 tablespoons mini tapioca
2 tablespoons vinegar
Yellow food colouring (as much as desired)
A pie shell
Directions
Begin by boiling the water. Add the rest of the ingredients one at a time, and allow the water to go back up to a boil before adding the next ingredient.
After you've added as much food colouring as desired, pour the mixture into a pie shell. Add the top crust (if desired), and then bake your pie at 400 F for 15 minutes. Then turn the temperature down to 350 F and bake for another thirty minutes. It should have a consistency similar to other fruit pies when it's finished. Serves 6-8.
Kartoffle Kloesse (Potato Dumplings)
I don't have a picture of this recipe, but it's something one of my grandmothers used to make. It's delicious.
Ingredients
6 boiled potatoes
2 eggs
a little salt
1/2 cup flour
Croutons
Directions
Grate 6 boiled potatoes . Add eggs, salt, and flour. Beat this mixture until fluffy. Roll it into balls with 2-3 croutons in the centre of each ball. Dump the balls into gently boiling salted water for 10 minutes. Drain well and serve. A little sour cream on the side of your plate would do wonders with this dish if you're so inclined.
Soft Pretzels
I strangely couldn't find any of the photos I've taken of my own soft pretzels over the years, so I grabbed one off the Internet. You could even make them in fancy ampersand shapes if you wanted to!
Ingredients
4 teaspoons active dry yeast
1 teaspoon white sugar
1 1/4 cups warm water (110 degrees F/45 degrees C)
5 cups all-purpose flour
1/2 cup white sugar
1 1/2 teaspoons salt
1 tablespoon vegetable oil
1/2 cup baking soda
4 cups hot water
1/4 cup kosher salt, for topping
Directions
In a small bowl, dissolve yeast and 1 teaspoon sugar in 1 1/4 cup warm water. Let stand until creamy, about 10 minutes.
In a large bowl, mix together all of the ingredients except the flour.
Add in the flour one cup at a time. You might need as few as three cups of it.
Mix and form into a dough. If the mixture is dry, add one or two more tablespoons of water. Knead the dough until smooth, about 7 to 8 minutes. Lightly oil a large bowl, place the dough in the bowl, and turn to coat with oil. Cover with plastic wrap and let rise in a warm place until doubled in size, about 1 hour.
Preheat oven to 450 degrees F (230 degrees C). Grease 2 baking sheets.
In a large bowl, dissolve baking soda in 4 cups hot water; set aside. When risen, turn dough out onto a lightly floured surface and divide into 12 equal pieces. Roll each piece into a rope and twist into a pretzel shape. Once all of the dough is shaped, dip each pretzel into the baking soda-hot water solution and place pretzels on baking sheets. Sprinkle with kosher salt.
Bake in preheated oven until browned, about 8 minutes. Serves 12.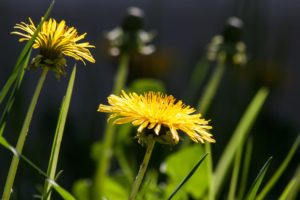 Bonus Recipe – Dandelion Salad
 I found this recipe in the cookbook mentioned above, and I know have ancestors who ate whatever they could find when food/money was scarce based on certain family legends. To be fair, that hasn't happened in a few generations so this doesn't quite count as a comfort meal.  I'd like to try it someday, though! Have any of you ever eaten dandelions or other wild greens?
Salad Ingredients
4 cups chopped dandelion
3 hard-cooked eggs
3 slices bacon
Dressing
1.5 tablespoons flour
1 teaspoon salt
1 egg
2 tablespoons sugar
1/4 cup vinegar
2 cups milk or water
Directions
Wash and chop dandelions
Cut bacon into pieces and fry until crisp
Remove bacon from drippings
To make dressing, stir together the dry ingredients, add egg, vinegar, and water. Stir until well blended.
Cook dandelions in bacon drippings until thickened and cool slightly.
Pour dressing over dandelions and mix lightly. Garnish with sliced or chopped eggs and the crips bacon. Serves 6.
Click here to read everyone else's replies to this week's question. The image below is the list of upcoming prompts for this blog hop.