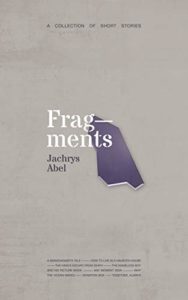 Title: Fragments – A Collection of Short Stories
Author: Jachrys Abel 
Publisher: Self-Published
Publication Date: November 21, 2020
Genres: Literary Fiction, Science Fiction, Paranormal, Contemporary, Historical, Futuristic 
Length: 40 pages
Source: I received a free copy from the author 
Rating: 3.5 Stars
Blurb:
Fragments explores various facets of humanity through eight short stories—each of different subject matter, but with a shared undercurrent of what can best be described as honest humanness. 
There's a gravedigger's uptake of a small favor for his brother, a young boy teaching his friend how to survive in a haunted house, and a valiant king's attempt to escape the clutches of death. There's also the arduous endeavor of a nameless boy to prove his existence, and a young girl's tortured wait for her partner's return home. The daughter of a scientist uncovers why exactly the ocean waves, while a defunct human does penance for calculated murder. The collection then ends off with a rework of the author's first ever published short which first appeared in literary magazine, Catch The Moment: a tale of how an invalid flees when his home is sieged, dragging along with him the village leader and her trusted advisor. 
Fragments is Jachrys' first self-published collection of short stories. His other works have appeared in numerous literary publications, of which include A Philosopher's Stone; Humanity Dawns; Catch The Moment; The Writing Cooperative; The Ascent; The Bad Influence; Storymaker; and Literally Literary.
Review:
Content warning: abuse and murder. I will not be discussing these things in my review.
Sometimes a single moment in time is all a character needs to reveal their true selves. 
I will briefly discuss a few of the pieces of this collection in my review. If any of them are interesting to you, do check out this book in its entirety. 
The title of "A Gravedigger's Tale" tells the readers most of what we need to know about it right away. The gravedigger in question had been doing this job for a decade and knew all of the tricks to avoid rousing the dead when digging a new grave or taking care of the grounds. Simple things like name and gender identity were never made clear, and yet I felt like I knew them well because of how much time they spent explaining their life's work to the audience and giving hints about the latest grave they were digging and why it was such an important one. 
There were a couple of stories in this collection that I thought could use a bit more development. Yes, they were fragments of fiction and therefore not meant to be as well fleshed out as, say, a novella or longer short story, but I would have enjoyed them more if their narrators had gone into a little more description about their plots and meanings. "The King's Escape from Death" was a good example of this. After the king received word of something terrible that was to happen to him at a specific time, he ran away from home for the evening to avoid it. I was intrigued by his plan and sure would have liked to see him explain how he thought it ought to work in greater detail, especially since the warning he received was such a vague one. 
"Why the Ocean Waves" made me smile. It followed a conversation between a young girl named Aleandra and her father about why waves exist. After hearing his scientific explanation for it and finding it unsatisfying, she shared her own theories about why waves exist and what they mean for humans. It was heartwarming to see how he paid attention to her as she thought through her answer carefully .
Fragments gently drifted between literary and speculative fiction. It should be read by anyone who appreciated the numerous grey areas between genres.