Hosted by Long and Short Reviews.
Click here to read everyone else's replies to this week's question and here to see the full list of topics for the year.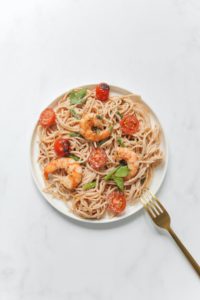 The best dish I cook is Lemon Shrimp Scampi.
This is a stock photo of a similar shrimp pasta dish. I included it because it features cooked tomatoes as well which can be a nice addition to this meal if you need more vegetables in your diet.
Ingredients
1 pound uncooked shrimp (26-30 per pound)
8 ounces uncooked angel hair pasta (I use whole wheat, but white works just as well)
1 tablespoon butter
1 tablespoon olive oil
2 green onions, thinly sliced
4 minced garlic cloves
1/2 cup chicken broth
2 teaspoons grated lemon zest
3 tablespoons lemon juice
1/2 teaspoon freshly ground pepper
1/4 teaspoon salt
1/4 teaspoon crushed red pepper flakes
1/4 cup minced fresh parsley
Grated Parmesan cheese (optional)
Small tomatoes, washed and cut in pieces (optional)
Instructions:
Begin to boil water and cook pasta. Cook and drain it as necessary while you work on the other steps.
If needed, peel and devein the shrimp. Remove their tails and cut them in half lengthwise. I generally buy deveined shrimp to simplify this step.
Heat butter and oil over medium-high heat in a large skillet. Add shrimp, green onions and garlic. Cook and stir for 2-3 minutes until shrimp turn pink. Add the tomatoes in at this point, too, if you want them. Remove the shrimp from pan with a slotted spoon. The tomatoes can stay in to finish cooking.
Add broth, lemon zest, lemon juice, pepper, salt and red pepper flakes to that same pan. Bring it to a gentle boil and cook until liquid is slightly reduced. This should take about 1 minute. Return the shrimp to the pan and remove from heat.
Drain pasta and divide it among 4 bowls. Top with shrimp mixture; sprinkle with parsley and, if desired, the cheese.
Serves 4.
This is an especially nice thing to make on a warm day when regular pasta might feel too heavy.