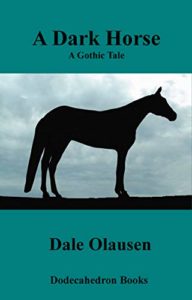 Title: A Dark Horse – A Gothic Tale
Author: Dale Olausen
Publisher: Dodecahedron Books
Publication Date: October 16, 2016
Genres: Horror, Paranormal, Mystery, Historical
Length: 40 pages
Source: I received a free copy from the author.
Rating: 3 Stars
Blurb:
Just what might a gambler give up, to go on the winning streak of his life? Even he can't know for sure. Christopher Marlowe's Doctor Faustus legend is given a Damon Runyon spin, in this short story.
Review:
Content warning: Gambling and gambling addiction. I will be discussing them in my review.
Every gambler is bound to run out of luck eventually, right?
By far my favourite type of horror is psychological horror. I was quite pleased with how Mr. Olausen frightened his audience without spilling a single drop of blood or so much as hinting at anything gory. He knew exactly what hints to drop for us that made us deliciously dread the next scene simply by throwing out hints about who or what the dark horse might actually represent. This is the kind of stuff I love getting scared by, especially as Halloween approaches.
It would have been helpful to have more character development in this short story. While I certainly wouldn't expect to see as much time spent on this as I would for a full-length novel, I did have trouble connecting to the main characters due to how little I knew about them and how much their personalities seemed to remain the same no matter what happened to them. If not for this issue, I would have felt comfortable choosing a much higher rating as the plot itself was well done.
I must admit to not knowing much about gambling at all, so I appreciated the brief explanations the narrator shared about how placing bets works and why some people have so much trouble walking away from a bet. While I will leave it up to experts on these topics to say how accurate everything was, I did enjoy learning more about the main character's addiction and what he hoped to gain from betting on just one more game or race. It gave me a stronger sense of empathy for folks in his position.
A Dark Horse – A Gothic Tale was a deliciously chilling story for the Halloween season and beyond.