Hosted by That Artsy Reader Girl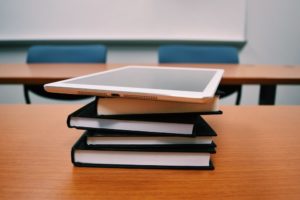 I deeply enjoyed going back through my records of 2021 to find the best books I read all year. My first six answers are of science fiction and fantasy books I reviewed for my site, so click on their titles to read my full reviews. The rest of them are library books from a variety of genres, and I'm including links to their Goodreads pages so you can read more about them, too.
I'll also briefly gush about my reasons for loving all of these books!
1) Remote Control by Nnedi Okorafor
Why I Loved It: This was the perfect blend of science fiction and fantasy themes. It makes me so happy to see authors mix those genres together so effortlessly, especially when they're about a protagonist as young and powerful as Sankofa.
2) Boo and the Boy – A Ghost Story by Wayne Barrett
Why I Loved It: Most paranormal stories will hint at this sort of ending before veering off into other directions, but Barrett was creative and brave enough to bring all of his foreshadowing to fruition!
3) The Teddy Bear's War by Alex Cross
Why I Loved It: I had several beloved stuffed animals as a child. It warms my heart to think of a world in which they love their children as much, and maybe even more, than their children love them.
4) Hail Mary by Andy Weir
Why I Loved It: Weir excels at making hard science fiction accessible to readers who have little to no science background as well. I also love the way he pushes current scientific principals to their limits while still creating believable stories.
5) The Storm by Alex Cross
Why I Loved It: The author has a vivid imagination that makes his stories a delight to read. I first discovered his work this year, and I can't wait to read more.
6) Safer at Home – A Ghost Story by Zoe Cannon
Why I Loved It: I've just barely begun dipping my toes into fiction that references Covid-19. This short story did an excellent job of capturing the fear and uncertainty we all felt during the first wave of the pandemic without incorporating the disease itself into the plot. I may never be able to read about the medical side of  pandemics again, but I did resonate with the main character's restlessness as he was trapped in his house.
7) "A Psalm for the Wild-Built" by Becky Chambers (Goodreads)
Why I Loved It: This novella felt like a full-length novel due to the excellent character development and world building in it. The hopeful vision of the future it held brought a tear to my eye, too. My only reason for not officially reviewing it is that I don't want to spoil any plot twists for anyone, and it's hard to discuss the plot without doing just that because of it's short length and how quickly exciting things begin to happen in it.
8) "You Bet Your Life: From Blood Transfusions to Mass Vaccination, the Long and Risky History of Medical Innovation" by Paul A Offit (Goodreads)
Why I Loved It: I'm fascinated by the history of medicine in general. We've learned so much about how the human body works, and I appreciated the author's balanced look at how new medical innovations both positively and negatively affected the lives of the people who were first exposed to them. The epilogue is well worth checking out as well.
9) "Waves" by Ingrid Chabbert (Goodreads)
Why I Loved It: The author had a hauntingly beautiful writing style that made it effortless for me to see the world through her and her wife's eyes for a brief moment.  I should note that this graphic novel tells the story of their journey through infertility and a late term miscarriage, so be warned if those topics are sensitive ones for you.