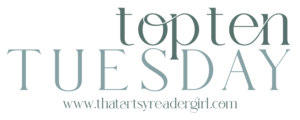 Hosted by That Artsy Reader Girl
Based on the teetering numbers of books still on my TBR, I don't need anyone to buy books for me. What I will do with this post is the same thing I did in 2021 and 2022: ask for book recommendations based on specific genres, themes, and types of stories that I currently can't get enough of.
Please speak up if you can think of anything great to read in the following categories.
Wish #1: Cozy Speculative Fiction 
For example, I adored The Cybernetic Tea Shop by Meredith Katz and Becky Chambers' Monk and Robot series.
If you know of other cozy science fiction or fantasy stories, I want to read them!
Wish #2: Intelligent, Street Smart Characters
Earlier this year, I went through an unfortunate streak of DNF books featuring characters who did not make good life decisions.
For example, imagine a character who is vacationing somewhere new to them being warned not to visit a particular spot after dark by locals who know that area is haunted and dangerous and who tell the main character exactly why they should stay away. The protagonist metaphorically rubs two brain cells together and then decides that they will visit the dangerously haunted area anyways because they're on vacation and it's probably all a hoax to scare visitors.
(That's not actually what happened in the books I decided to DNF, but it was about that level of exasperation for me as a reader).
So, yeah, I'm in the market for characters who make intelligent decisions and do not ignore bright red flags. Any genre other than erotica or inspirational is fine, and it's okay if they get into serious trouble despite taking reasonable precautions. I just need to read about characters who have basic common sense!
Wish #3: Humorous Books
I think I've put this on every one of my wish lists so far, but there can never be too many humorous books.
Wish #4: Zombie Fiction
Here are some recent zombie stories and tv shows I've enjoyed:
Basically, I prefer zombie fiction that tries to give a scientific explanation for how it happened, spends as little time as possible showing humans harming each other, and tries to be realistic about what would really happen to humanity if, say, cordyceps evolved to infect humans instead of only infecting certain species of ants.
Wish #5: Science for Non-Scientists
Yes, I know that's a broad category. I like to read about all sorts of scientific subjects, from the history of sheep to earthworms to the history of vaccines.
It's amazing to see what scientists have discovered about our world and how long it can take certain breakthroughs to happen.
Wish #6: Books with Vivid Food Descriptions
Once again, I'll dip into any genre other than the two I mentioned not being interested in earlier. I'm simply in the mood to read books that go to great pains to describe the food served in them in vivid detail.