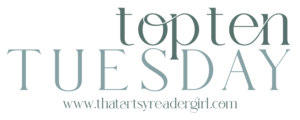 Hosted by That Artsy Reader Girl
I know that not every Top Ten Tuesday participant lives in the Northern Hemisphere or in a part of the world that has similar seasons to Ontario, but some of us are inching closer to spring with every passing day.
I cannot wait for spring so I can go outside and enjoy some warmer and non-soggy nature time. (It can get pretty muddy here in March and April after the ice and snow begins to melt but the soil hasn't absorbed all of that water yet).
Who else is counting down the days until the change of the seasons?
My answers to this week's prompt are going to be the usual random assortment of topics. I love jumping around between nonfiction and fiction as well as zooming between all sorts of genres within the fiction label as well.
Let's see what will hopefully be capturing my attention this spring.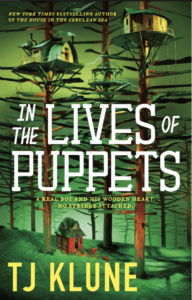 In the Lives of Puppets  by T.J. Klune
Publication Date: April 25
Why I'm Interested: T.J. Klune is one of those authors I keep meaning to read but never quite get around to it. I love robot stories, though, so this one might convince me to take the plunge.
The Mostly True Story of Tanner and Louise  by Colleen Oakley
Publication Date: March 28
Why I'm Interested: I love stories about cross-generational friendships. It's also nice to see more protagonists who are senior citizens.
A Fever in the Heartland: The Ku Klux Klan's Plot to Take Over America, and the Woman Who Stopped Them by Timothy Egan
Publication Date: April 4
Why I'm Interested: I'd never heard of Madge Oberholtzer before, but she sounds like she was a courageous and incredible human being.
Hey, Hun: Sales, Sisterhood, Supremacy, and the Other Lies Behind Multilevel Marketing  by Emily Lynn Paulson
Publication Date: May 30
Why I'm Interested: It's really sad to see people being taken advantage of by pyramid schemes and other "job" offers that promise wealth but often put one deeply into debt instead.